Feral Farm
Located in Grants Pass, OR, United States (Zone 9a)
0 Total Reviews
Farm Facts
Established in 2017
1.00 acres in production
1 varieties for sale
Grows and Sells: Tomatoes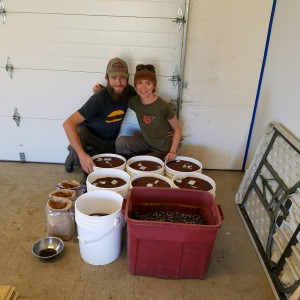 Cacia Huff
About the Farm
Feral Farm is a lease on 23 acres of certified organic, class A Kirby loam soil in GMO free Josephine County. Southern OR has a world class seed producing climate and our farm is surrounded by seed producing neighbors who grow seed for other larger companies and/or operate their own companies. My partner Jon and I are the growers and primary labor force currently.
Our Commitment to Quality Seed
We are in a county that has banned GMO crops and we observe strict isolation distances and also know our prevailing wind patterns. We do our best to be aware of our distant neighbor's farming or gardening activities to prevent contamintion also. We have a lot of land available to lease so we can ensure that we maintain the distances required to prevent crossing. We grow for large seed companies, so we produce and harvest only the highest quality seed that is subject to testing for germination rate, mold etc. We always overplant and rogue out off types and undiserable traits . We look at vigor, pest and disease resistance, cold and heat tolerance, morphological characteristics, early bolting etc. We understand the fluidity of genetics and need to maintain and ability to improve seed.
Our Growing Practices
We go beyond the USDA organic standard with our commitment to low impact and clean growing practices. As a practice we strive to use preventative pest control practices rather than spraying organic-approved pesticides, farming with a mind for a balanced ecology. We try hard to source durable long lasting materials for irrigation, pest management, etc to cut down on plastic and landfill waste. We understand the value in protecing and building soil so we farm accordingly with minimal tillage, covercropping, and yearly soil testing/ammending with locally sourced imputs.
Our Seed Farming Experience
We are passionate about the need to maintain diverse genetics in our food system during a time of population growth, enviornmental degradation and climate change. We understamd the importance of restoring agriculture to a better state of sustainability, starting with high quality seed that is adapted to organic management practices. We have worked for and with (and continue to, part time) some very talented seed breeders and seed farmers in our valley. We love growing, saving and sharing seed!
Regional Adaptation
We save our own stock seed so it has become more regionally adapted over time. Southern OR has very hot summers and cool rainy winters so only hardy well bred varietes do well here and that is what we grow.
Seed Listings
---