Common Wealth Seed Growers
Located in Louisa, VA, United States (Zone 7a)
6 Total Reviews
Farm Facts
Established in 2014
11.00 acres in production
28 varieties for sale
Grows and Sells: Pumpkins, Melons, Squash - Summer, Corn, Cucumbers, Peppers, Tomatoes, Squash - Winter, Collards, Gourds, Eggplant, Watermelons, Watermelon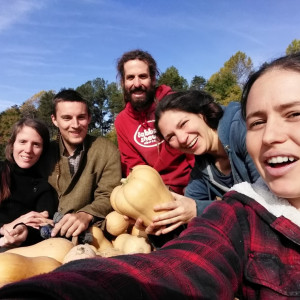 A Seed Growers Cooperative
About the Farm
Common Wealth Seed Growers is a cooperative project to produce and sell regionally-adapted, open-pollinated seeds for a limited number of outstanding varieties. We grow all the seeds we sell, and we only sell what grows well here. Most of our varieties are certified organic, and all are grown using organic or biological farming practices. Read more about us at commonwealthseeds.com. Please email us at commonwealthseeds@gmail.com or call us at 540-223-5861 with any questions you may have.

Meet Our Growers:
-Edmund Frost has been growing certified organic seed crops on the same land in Louisa County, Virginia since 2008. He lives at Mimosa intentional community. Edmund has worked as an anti-GMO activist and is committed to building functional alternatives to corporate control of our food, farms and seeds. He co-manages Twin Oaks Seed Farm with River Oneida.
-Debbie Piesen has managed seed growing at Living Energy Farm since 2010, growing certified organic seeds and produce on three acres near Louisa, Virginia. LEF is a project to build a self-sufficient farm, community and education center that uses no fossil fuels or grid electricity.
-River Oneida has been growing seeds for over 15 years, both with Twin Oaks Seed Farm, and as part of Southern Exposure Seed Exchange. He currently lives at Twin Oaks Community, where he also manages hay production and forestry.
-Rejoice Miene lives and farms at Mimosa Community in Louisa, Virginia, and also works part-time at Southern Exposure Seed Exchange (they worked there full time for several years).
-Sapphyre Miria has been growing vegetables and seed crops since 2012, and continues to pursue her passion of growing and working with medicinal herbs. She believes that it is essential for personal autonomy and freedom that everyday people control their own food, seed and medicine systems, rather than corporations like Monsanto and big pharma.
-Lyndsey Walker has grown vegetable seed crops and produce on her farm in Buckingham County, Virginia since 2015. Before that she worked for several years on the seed growing crew at Twin Oaks.
Our Commitment to Quality Seed
We maintain appropriate isolation between varieties, based on recommendations from several sources, especially Jeff McCormack's 2004 publication on isolation (see savingourseeds.org). We also base isolation distances on our experience.
We are serious, and also careful, about stock seed selection. We don't want to select for productivity at the expense of flavor, for instance. It is important to think through the full ramifications of the selections we make. That said, we do select for flavor, disease resistance, flavor, appearance and productivity.
All our seed lots are tested according to Association of Official Seed Analysts procedures, and found to exceed federal germination standards. Contact us if you need germination results on a particular seed lot: commonwealthseeds@gmail.com
Our Growing Practices
All our seeds are grown using organic or biological practices – most are certified organic. Labels and variety listings indicate which varieties are certified organic. All our seeds are untreated and non-GMO.
Disease and insect resistant varieties are especially important for organic farmers and gardeners because our options for disease and insect control are limited. Our seedstocks are chosen and selected for good performance in low-input organic conditions.
Regional Adaptation
We have been selecting and adapting many of our varieties for several years. We have seen noticeable improvement in several cases when we compared our selected seedstocks to those selected elsewhere or not selected.
We are committed to ongoing variety trials to identify open-pollinated varieties and seedstocks that are well suited for our region. We trial seedstocks from many sources, including university breeding programs, amateur breeders, heirloom seed savers, and the USDA germplasm bank. Read more here: http://commonwealthseeds.com/research/

Seed Listings
---