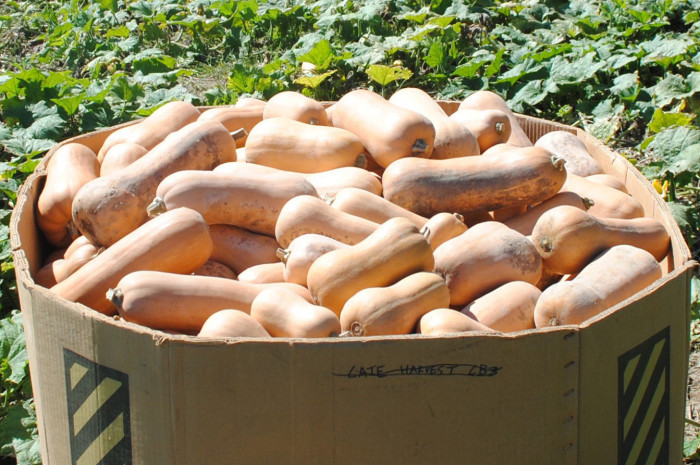 Tags: Certified Organic Open Pollinated
Growing Practices: No Pesticides No Herbicides No Fungicides No Synthetic Fertilizers
Latin Name: Cucurbita moschata
Days to Maturity: 120
Description:
High quality downy mildew resistant butternut squash bred for the South. Edmund Frost developed South Anna from a cross between Seminole Pumpkin and Waltham Butternut, and has been selecting for ten years for downy mildew resistance, productivity, flavor, brix, dry matter content, keeping quality, and general butternut shape. Exterior color is a deeper tan than most butternuts. The majority of fruits are 3-4 pounds, though they range from 1.5-5.5 pounds.
South Anna will avoid the crop failure that can occur in years when downy mildew comes early, and provide a better quality harvest in years with average DM pressure. The healthier foliage leads to sweeter, riper fruits of a rich tan color. Brix, dry matter and flavor ratings of South Anna have been consistently higher than other butternuts in our trials at Twin Oaks Seed Farm. When used as a late planting, South Anna grows strong until frost, allowing for later harvests that will keep better into the winter. Because this variety is somewhat indeterminate, we often make two harvest passes, separated by a few weeks. This also helps extend the storage window, because the later-ripening fruits will keep longer and you can sell the earlier-ripening ones first. Strong, vigorous, fully vining plants. 280 seeds/ounce. Grown at Twin Oaks Seed Farm.

South Anna is an Open Source Seed Initiative (OSSI) variety. OSSI is a movement to help protect seed from corporate monopolization. Read more at www.osseeds.org.

Please click the Common Wealth Seed Growers link to the right to view all of our other listings!


Buy
Questions 28 Total
Ask a Question About South Anna Butternut - Certified Organic (Pre-Order)
Policies
Shipping Policies
We ship orders once a week on Friday, via US Postal Service. If you need expidited service we'll try to help - contact us at commonwealthseeds@gmail.com
Return & Refund Policy
Refunds are on a case-by-case basis. Please contact us with your concerns and we will be happy to be of service.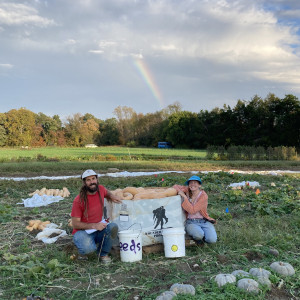 Common Wealth Seed Growers Cooperative
Louisa, VA, United States (Zone 7a)
Established in 2014
14.00 acres in production
Other Listings from Common Wealth Seed Growers: