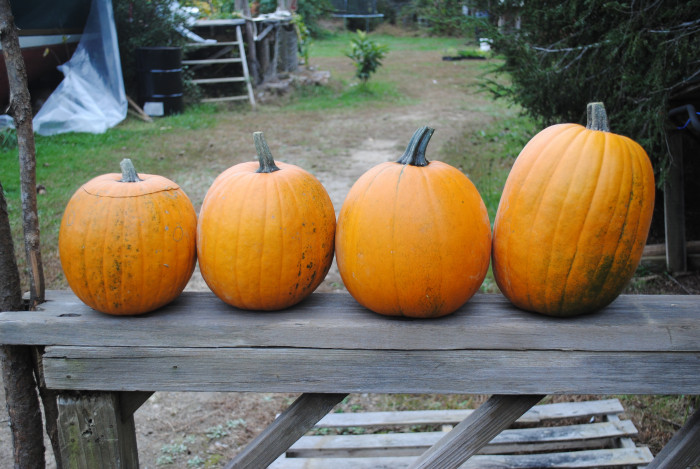 Tags: Certified Organic Open Pollinated
Growing Practices: No Pesticides No Herbicides No Fungicides No Synthetic Fertilizers
Latin Name: Cucurbita pepo
Days to Maturity: 105 days
Description:
New Release - Developed by Common Wealth Seed Growers.
An Orange Halloween pumpkin bred to resist downy mildew - so they grow well into October. They also have good vine borer resistance. Resilient Fire Pumpkin comes from a cross between Magic Lantern, an orange carving pumpkin resistant to powdery mildew (which may also confer some downy mildew resistance); and an orange squash from Tamaulipas, Mexico called Tutume. We got Tutume (PI 532389) and about a dozen other tropical Cucurbita pepo seedstocks from the USDA germplasm bank for a late-planted downy mildew trial in 2018. Tutume was the only squash that handled the downy mildew and produced well in the trial.
Average size is 11 inches in diameter. We recommend planting in late June for harvest in mid to late October.
Some percentage of plants (25% this year but less next year) will make pumpkins with skin that is too hard to carve. This is a trait we've been selecting against successfully (though in the future we will probably release a separate variety with hard skin). Shapes vary from round to somewhat oblong, and color ranges from deep orange to lighter orange. They trended towards more oblong in 2022.
Though we haven't selected for eating quality, these are surprisingly good in their own way - somewhat sweet and somewhat stringy flesh with high dry matter for a pumpkin. 204 seeds / ounce. Grown by Twin Oaks Seed Farm.

We are using the Open Source Seed Initiative (OSSI) pledge with the varieties we've developed to help combat corporate monopolization of seeds. Read more at www.osseeds.org.

Please click the Common Wealth Seed Growers link to the right to view all of our other listings!
Story of this Seed:
Thank you to all the people who worked to create the parent varieties, especially those in and around Llera de Canales, Tamaulipas, Mexico. Also to Ted Superak of Harris Moran Seeds who developed Magic Lantern pumpkin, and Henry Munger of Cornell who bred its powdery mildew resistant parent from an interspecific C. pepo and C. moschata cross. Thank you to Kathy Reitsma and other curators of the Cucurbita pepo seed bank at North Central Regional Plant Introduction Station in Ames, Iowa. Also M. Nee and T.C. Andres.
Questions 1 Total
Ask a Question About Resilient Fire Pumpkin - Certified Organic (Pre-Order)
Answer this question

When planting in rows what is recommended row spacing and plant spacing?
About how many fruit is expected per plant
I hope to try to grow hundreds at our elementary school garden and give to kids in Charlotte Nc. I'm scared about mildew and vine borers so this seems to be the only pumpkins I've read about that addresses both my concerns!!!

Answers 1

That sounds like an awesome project. I would aim for one plant about every 3 feet in the row, with rows 6 to 9 feet apart. They're fully vining. Probably 2-4 fruits per plant, but it depends on the spacing. Edmund for CWSG
Policies
Shipping Policies
We will do our best to ship out our orders within 2 business days; however, this changes to approximately 5 business days if you order seed from August through October as we are in the midst of harvest season. We ship USPS.
Return & Refund Policy
Refunds are on a case-by-case basis. Please contact us with your concerns and we will be happy to be of service.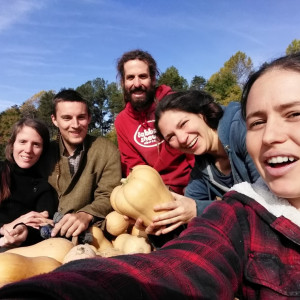 Common Wealth Seed Growers Cooperative
Louisa, VA, United States (Zone 7a)
Established in 2014
14.00 acres in production
Other Listings from Common Wealth Seed Growers: