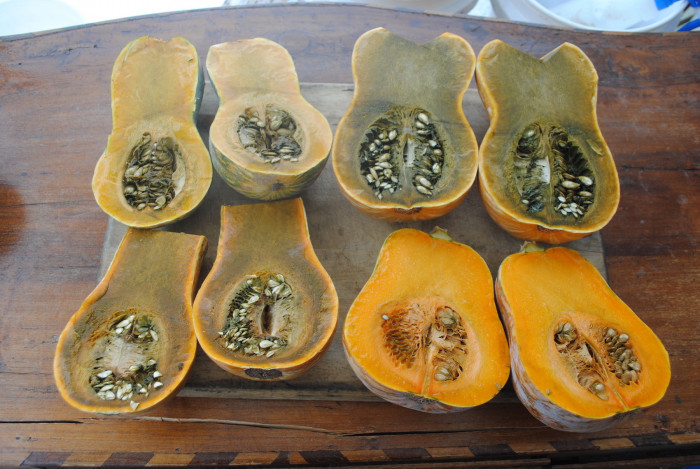 Tags: Certified Organic Heirloom Open Pollinated
Growing Practices: No Pesticides No Herbicides No Fungicides No Synthetic Fertilizers
Latin Name: Cucurbita moschata
Days to Maturity: 125
Description:
Really good tasting squash with very unusual color. About half are GREEN ON THE INSIDE. The rest are orange or chocolate. Very good sweetness and dry matter. Interesting and pleasant aromatic flavor - the greener ones have almost a spinach flavor. The green color deepens in storage, and comes out even more in cooking - some fruits that look orange-brown if cut open at harvest time would be green later. Matures well in Central Virginia, but it takes the whole season.
We got this variety from Jay Bost of Hawaii - it originally comes from the Lago Atitlan region of Guatemala. We've learned from Jay that there is likely some Chinese pumpkin crossed in. This has made the squashes less green on the whole, but also shortened the time to maturity and increased the productivity for our climate. We're continuing to select for greenness, productivity and earliness, plus great flavor. Next growing season we'll be ready to do a larger seed growout that comes from a cross of the best dark green selection and a light green selection that was the most productive and tasty in 2020 and 2021. We highly recommend this squash. Its also a very good keeper and has excellent downy mildew resistance. 10 seeds/gram. We'll have larger sizes next year.
Grown at Twin Oaks Seed Farm.

Please click the Common Wealth Seed Growers link to the right to view all of our other listings!
Questions 1 Total
Ask a Question About Guatemalan Green Ayote (Tropical Pumpkin) - Certified Organic
Answer this question

What's the average weight? Would it be happy on a trellis?

Answers 1

Shape and weight are somewhat variable, but about 2.5-4.5 pounds. Very vigorous plants, so it would need to be a large and sturdy trellis, for instance cattle panel arches.
Policies
Shipping Policies
We will do our best to ship out our orders within 2 business days; however, this changes to approximately 5 business days if you order seed from August through October as we are in the midst of harvest season. We ship USPS.
Return & Refund Policy
Refunds are on a case-by-case basis. Please contact us with your concerns and we will be happy to be of service.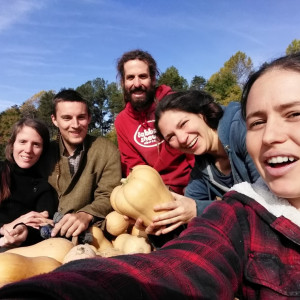 Common Wealth Seed Growers Cooperative
Louisa, VA, United States (Zone 7a)
Established in 2014
14.00 acres in production
Other Listings from Common Wealth Seed Growers: