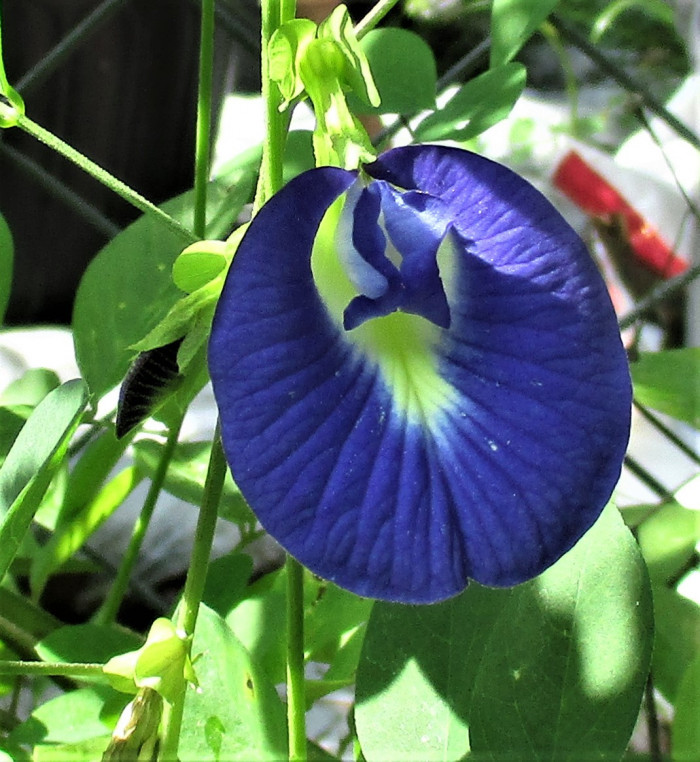 Tags: Open Pollinated
Growing Practices: No Pesticides No Herbicides No Fungicides No Synthetic Fertilizers
Latin Name: Clitoria Ternatea
Description:
Organic Blue Butterfly Pea Vine Seeds
Clitoria Ternatea
Common names: Butterfly pea, Blue Pea, Asian Pigeonwing
Planting zone: 9, 10, 11 outdoors as a perennial. Colder zones plant in containers and grow as an annual.
Deciduous depending upon planting area.
Delicate fine foliage, but the plant can reach tall heights and will require some support.

What a beautiful vine. The startling blue flowers contrast wonderfully with the soft green foliage and beige seed pods. The butterfly pea vine is a great ornamental that can be a dramatic center piece in the garden.

The butterfly pea vine is a fast grower and the pollinators love it. Add it to your butterfly garden. The plant loves a sunny place, perhaps with a little afternoon shade in very hot locations. Plant in well draining soil and watch it grow. It can be grown as either an annual or tender perennial, depending upon the planting zone.

The vine can reach heights of 12 feet or more and needs support to show off its beauty. Plants can be grown in the ground or in large containers.

The butterfly pea vine is a member of the Fabaceae family and the seed pods resemble a bean. Pick and eat the pods when young and tender, either raw in salads or in stir fries or any method you wish. I quite often pick a couple of pods to eat raw while working outside. They have a mild green taste – definitely fresh.

The plant is considered a revegetation plant. The roots form rhizobia and improves the nitrogen fixers in the soil. The plant is planted in depleted soil in some areas.

The striking blue flowers are used in many countries to make dye, sweet syrups and to color rice. The flowers are used to make caffeine free herbal blue chai tea. Yes – the one that makes the beautiful blue beverage and turns lavender when you add a little lemon juice and there are dozens of YouTube videos on.

This would be a great plant to add to your medicinal/edible garden. Please do your own research and make informed decisions

Thank you and happy gardening.
Story of this Seed:
I loved this plant from the first time I saw it. The striking blue flowers are really an eye catcher. The seeds came from a very good friend and we have been growing them for about 20 years.
Growing Tips:
Germination Suggestions: The plant propagates very easily from seed. Soak the seeds several hours prior to planting. Plant in potting containers/flats. Prepare potting mixture of your choice by moistening the mixture first. Place 2-3 seeds in each cell. Cover lightly with additional soil and press gently to make sure there is good seed to soil contact. Mist well, place in indirect sun light and do not let the soil dry out. Once the seedlings reach several inches tall, they can be transplanted into larger pots or into the ground.

My plants do best with morning sun and a little afternoon shade Remove seed pods often to encourage more flowering.
Questions 0 Total
Ask a Question About BLUE BUTTERFLY PEA VINE
Policies
Return & Refund Policy
At this time, all sales are final and no refunds will be issued.
If you have received seeds that don't meet your expectations, contact us, and we will work with you to resolve the issue. Thank you for shopping with us!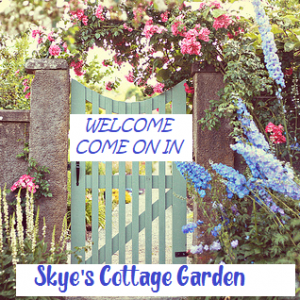 Eliseann Skye Dann
Ocoee, FL, United States (Zone 9b)
Established in 2009
0.50 acres in production
Other Listings from Skye's Cottage Garden: