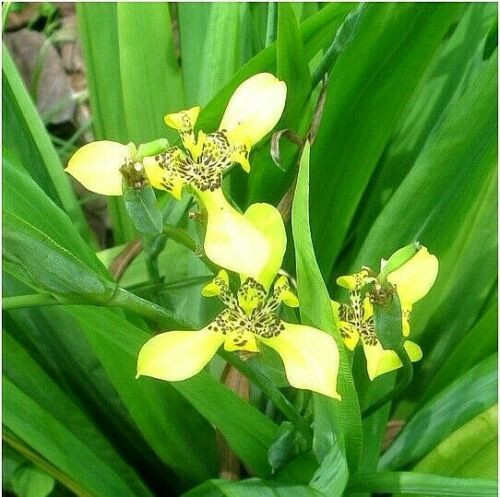 Tags: Heirloom Open Pollinated
Growing Practices: No Pesticides No Herbicides No Fungicides No Synthetic Fertilizers
Latin Name: Neomarica longifolia
Days to Maturity: VARIED
Description:

PLEASE NOTE: NO HEAT PACKS AVAILABLE. WE RECYCLE BOXES, ENVELOPES AND PACKING MATERIALS

FREE SHIPPING ON ORDERS OVER $35.00

Common names: Yellow iris, walking iris, apostle plant, fan iris
Botanical name: Neomarica longifolia
Hardiness Zone: 9-11 outside. Plant can be grown in containers and overwintered.

SHIPS MONDAY, TUESDAY, SOMETIMES ON A WEDNESDAY TO AVOID SITTING IN POST OFFICE OVER A WEEKEND.

PLANTLETS MAY OR MAY NOT HAVE ROOTS. PLANTLETS ARE HARVESTED WHEN ORDERED.

What a pretty iris to add to your landscape and it is so easy to grow. With its beautiful yellow petals and tiger marking centers, this Iris is sure to bring a smile. It is called a walking iris because after it blooms, the plant forms plantlets that bend down and root into the ground.

Plantlets range from 3" to 6" in length and will be shipped with a moist medium wrapped around the rooting end.

This Iris is very hardy.

The Yellow Walking iris makes a stunning addition to any garden or balcony. Plant these beauties in containers or direct into the garden. The iris can tolerate very little direct sun and does well in full shade, but here in zone 9B the plants prefer to hang out in the edges of partial shade. Groupings of the plants make a stunning visual or scatter plants throughout garden beds for color interest. This iris also makes great border plants. The plants can reach almost three feet in height and girth. They are a warm weather plant, but they can tolerate some cold. In really cold climates, plant them in containers and overwinter in a warm location.

This iris is easy to grow, loves water and blooms on and off throughout the year in my area. The yellow blooms are stunning against the background of the shiny green foliage. Even when not in bloom, the foliage makes a pretty backdrop for annuals and other small perennials. The yellow iris looks particularly pretty when mixed with flowers with lavender and purple blooms.

The information I provide is for my growing zone, 9B, and may not work in other zones. Please do your own research on how to grow and maintain this item in your planting zone. Thank you.

Thank you for your interest and happy gardening.
Story of this Seed:
We have been growing this iris for over 25 years. A good friend gave me a handful of the young plantlets and now I could not imagine not having these beauties in the landscape.
Growing Tips:
Planting suggestions: Remove the plantlets from the package as soon as they arrive. If you do not have time to plant immediately, simply remove the medium and place the plantlets in a glass with a small amount of water, enough to cover the rooting end. Place the glass in a lighted area, but not in direct hot sun. This type of iris will grow water roots if left in the glass and they can then be transplanted into a soil medium.

Planting in containers or in the ground. Make a hole large enough for the end of the plantlet. Insert, press soil around the base of the plant and water well. This iris does like water, but it is not a bog iris, so make sure your soil is well draining.

Try not to plant in direct hot sun. This will fade the blooms and the plant will struggle. Indirect bright light works the best.
Buy
Questions 0 Total
Ask a Question About IRIS - STARTER PLANTS YELLOW IRIS, TRIMEZIA, LADY'S FAN
Policies
Shipping Policies
We strive to ship seeds the day after we receive the order, excluding weekends. We use USPS. We ship only to the contiguous US, the lower 48 states, due to high postage rates and custom regulations - thank you for understanding. Seedlings/cuttings/plants will be shipped the first of the week, Monday, Tuesday and sometimes on a Wednesday, depending upon the destination. This way the seedlings do not sit in a post office over a weekend. We do not offer heat packs. All of our items are grown in planting zone 9B.
Return & Refund Policy
We have no refund policy. All seeds have been tested for germinaton. All seedlings,cuttingswill be freshly harvested and are in good condition when shipped.
Other Policies
We thank everyone for the opportunity to share our seeds and seedlings.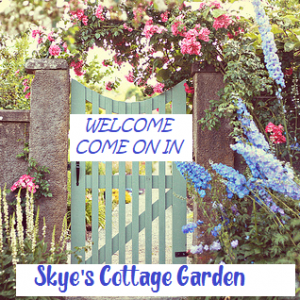 Eliseann Skye Dann
Ocoee, FL, United States (Zone 9b)
Established in 2009
0.50 acres in production
Other Listings from Skye's Cottage Garden: