Tags:
Growing Practices: No Pesticides No Herbicides No Fungicides No Synthetic Fertilizers
Latin Name: Garlic
Description:
Romanian Red, like most porcelains is a large and beautiful garlic with rich robust flavor that is strong and has an aftertaste that lingers. The clove covers are a light brown streaked with purple. It has large easy to peel cloves so it's a favorite in the kitchen. Eaten raw it has a strong garlic flavor with a mild initial tingle, the garlic flavor lingers and sweetens in your mouth and ends with a nutty flavor. It is very good for storage for a hardneck variety. Averages 5 to 7 cloves per bulb
Grows well in most states even some years in Warm Winter Areas, but will be marginal there in years with early hot summers.

Harvests in early-mid summer



From a growers perspective, it is a large and healthy garlic to grow and appears to be relatively resistant to most of the diseases that can affect garlic. It originated in Romania.

Questions 0 Total
Ask a Question About Romainian Red
Policies
Return & Refund Policy
At this time, all sales are final and no refunds will be issued.
If you have received seeds that don't meet your expectations, contact us, and we will work with you to resolve the issue. Thank you for shopping with us!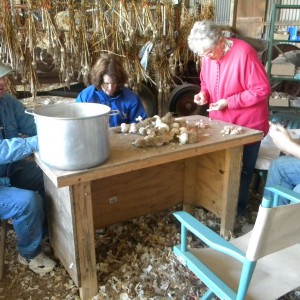 Steve Wood
Littlestown, PA, United States
Other Listings from PennGate Garlic: