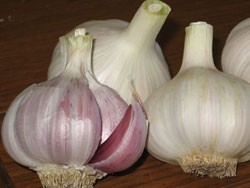 Tags: Heirloom
Growing Practices: No Pesticides No Herbicides No Fungicides No Synthetic Fertilizers
Latin Name: Allium Sativum
Description:
One or more bulbs each of some rich Creole garlics such as: Ajo Rojo, Burgundy, Creole Red, Cuban Purple, Labera Purple, Pescadero Red, Spanish Benitee, Native Creole, Rose Du Lautrec, etc. This assortment is for the true warm winter garlic lover who loves the full rich taste and flavor that comes with Creole garlic and who lives in a warm winter area where Creoles thrive.
Questions 2 Total
Ask a Question About All Creoles Sampler
Answer this question

When will the garlic be available for the 2020 planting?

Answer this question

are the different varieties in the sampler packages individually marked?

Answers 1

yes, but we are all sold out till next year...
Thanks,
John
Policies
Shipping Policies
We ship USPS Priority. The way garlic works is you are reserving your garlic with your payment for fall shipping. We start filling orders in Aug. on a first come first served basis.
Return & Refund Policy
Case to case basis.
John Rueb
Amado, AZ, United States (Zone 8)
Established in 1997
6.00 acres in production
Other Listings from Forever Yong Farm: