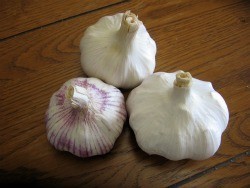 Tags: Heirloom
Growing Practices: No Pesticides No Herbicides No Fungicides No Synthetic Fertilizers
Latin Name: Allium Sativum
Description:
One or more bulbs each of varieties such as Red Toch, Siciliano, Maiskij, Sonoran, Shilla, Viola Francese, Ajo Rojo, etc. This assortment is for the true garlic lover who loves the full range of taste and flavor that comes with garlic but who lives in a warmer winter area where only certain varieties thrive. These garlics do well in zone 6 or higher.
Buy
Questions 2 Total
Ask a Question About Warm Weather Sampler
Answer this question

Hi, I live in Georgia, zone 7b. Will it be too late to plant these at the end of November? And another question: How many cloves will I get in one pound?
Thanks in advance!

Answers 1

I would try to get it in by mid Nov., but late Nov. will work.....
I always say 60 good plantable cloves or 30 row feet at 6" spacing.
John

Answer this question

Hi! I live in Oakland, California, in zone 9b (USDA). I'm interest in trying this mix. We have tried growing garlic before but haven't had much luck~ they never bulbed. I'm thinking we just maybe have the wrong varieties? I'm wondering, are the individual varieties that come with this mix labeled so that I will know what is what?
Thank you!

Answers 1

Yes they are. Also, you may want to vernalize your bulbs- fridge for 6-8 weeks before planting-open in brown bag. Not in crisper.
Policies
Shipping Policies
We ship USPS Priority. The way garlic works is you are reserving your garlic with your payment for fall shipping. We start filling orders in Aug. on a first come first served basis.
Return & Refund Policy
Case to case basis.
John Rueb
Amado, AZ, United States (Zone 8)
Established in 1997
6.00 acres in production
Other Listings from Forever Yong Farm: