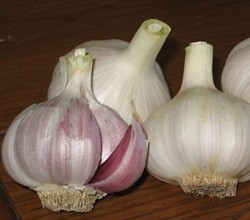 Tags: Heirloom
Growing Practices: No Pesticides No Herbicides No Fungicides No Synthetic Fertilizers
Latin Name: Allium Sativum
Description:
Ajo Rojo is a beautiful and distinctive garlic with red/burgundy clove wrappers and good storage. It sizes up nicely in warmer growing areas with many bulbs reaching 2" or more diameter. Silky bulb wrappers. Vigorous root system and late harvest for incredibly rich flavor. Hot, sweet, and flavorful!
We are Certified Naturally Grown.
Questions 3 Total
Ask a Question About Ajo Rojo
Answer this question

Hi, I'm intrigued about this beautiful colorful bulbs, my question is; is this considered hard neck or soft?

Answer this question

Do you sell bulbils of this variety?

Answer this question

I've just learned that a garlic collector named G. Lutovsky originally brought Ajo Rojo to Nevada from Spain in the early 1990's. Do you know anything else about this G. Lutovsky?

I'd love to know more about the history of Ajo Rojo as well as the fellow who brought the variety over.

Thanks!

-Luke

Answers 1

Hi Luke,
Sorry, but I know little else on the subject. I read the same description from Filaree Farm when I bought my stock from them 20 years ago....
Best,
John
Policies
Shipping Policies
We ship USPS Priority. The way garlic works is you are reserving your garlic with your payment for fall shipping. We start filling orders in Aug. on a first come first served basis.
Return & Refund Policy
Case to case basis.
John Rueb
Amado, AZ, United States (Zone 8)
Established in 1997
6.00 acres in production
Other Listings from Forever Yong Farm: