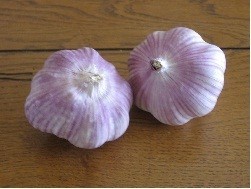 Tags: Heirloom
Growing Practices: No Pesticides No Herbicides No Fungicides No Synthetic Fertilizers
Latin Name: Allium Sativum
Description:
A nicely striped, pretty, early, warm weather adapted Turban hardneck that sizes up well all across the south from Jacksonville to San Diego. Named for the Sonoran desert of Arizona and Sonora, Mexico. Medium heat and great garlicky flavor.

Approximately 80 cloves per pound.
Buy
Questions 4 Total
Ask a Question About Sonoran
Policies
Shipping Policies
We ship USPS Priority. The way garlic works is you are reserving your garlic with your payment for fall shipping. We start filling orders in Aug. on a first come first served basis.
Return & Refund Policy
Case to case basis.
John Rueb
Amado, AZ, United States (Zone 8)
Established in 1997
6.00 acres in production
Other Listings from Forever Yong Farm: