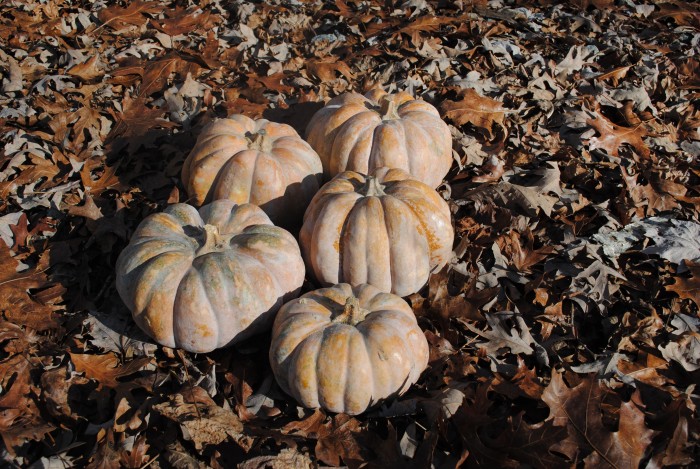 Tags: Certified Organic Open Pollinated
Growing Practices: No Pesticides No Herbicides No Fungicides No Synthetic Fertilizers
Latin Name: Cucurbita moschata
Days to Maturity: 120
Description:
Chinese Tropical Pumpkin has a rich creamy texture, high dry matter and brix (sugar) readings, bright orange interior and a lot of flavor (pumpkiny and nutty). At harvest, fruit color is a mix of pink, green and blue, with a white bloom (like the white outer layer on some blueberries). During storage they ripen to a deep tan color. The pumpkins have moderate to deep ribs and average 4 pounds.

This seedstock comes from a Taiwanese hybrid called Crowning, via Hawaii grower Glenn Teves. It may have been grown for several generations in Hawaii. Most are round ribbed pumpkins as pictured, but about 20% are necked or barrel-shaped. In 2022 at Twin Oaks Seed Farm we successfully began a hand-pollination effort to improve the uniformity of shape, but the current seed lot doesn't yet reflect that. Chinese Tropical Pumpkin has good downy mildew resistance and was one of the top performers (in terms of yield, disease resistance and flavor) in Twin Oaks' 2014 and 2022 trials. In the past we thought of this variety as not being a long keeper - however the ones in the 2022 trial are keeping very well as of mid December. 200 seeds/ounce. Grown by Living Energy Farm.

Please click the Common Wealth Seed Growers link to the right to view all of our other listings!

Buy
Questions 6 Total
Ask a Question About Chinese Tropical Pumpkin - Certified Organic (Pre-Order)
Policies
Shipping Policies
We ship orders once a week on Friday, via US Postal Service. If you need expidited service we'll try to help - contact us at commonwealthseeds@gmail.com
Return & Refund Policy
Refunds are on a case-by-case basis. Please contact us with your concerns and we will be happy to be of service.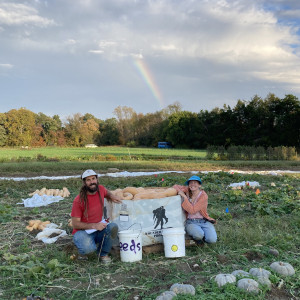 Common Wealth Seed Growers Cooperative
Louisa, VA, United States (Zone 7a)
Established in 2014
14.00 acres in production
Other Listings from Common Wealth Seed Growers: