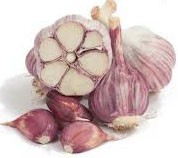 Tags:
Growing Practices: No Pesticides No Herbicides No Fungicides No Synthetic Fertilizers
Latin Name: Allium Sativum
Description:
Romanian red, like most porcelains, is a large and beautiful garlic with about 4-6 jumbo size cloves per bulb with rich robust flavor that is strong and has an aftertaste that lingers. Highly regarded medicinal garlic, known for its high allicin content. It originated in romania. from a grower's perspective, it is a large and healthy garlic to grow and appears to be relatively resistant to most of the diseases that can affect garlic. grows well in most states even some years in warm winter areas, but will be marginal there in years with early hot summers. the clove covers are a light brown streaked with purple. harvests in early-mid summer - a rich flavored, very hot strong garlic that stores into spring at cool room temp. large 16-20 cloves per 1/2lb. attractive large bulbs usually contain 4-6 plump cloves.
Questions 2 Total
Ask a Question About Romanian Red Porcelain
Answer this question

when you say hot,do you mean spicy?

Answer this question

Hello,
I'm new to growing garlic. I like the Romanian Red and the Music. My farm is in Minnesota. Should I wait to plant this fall? Thanks. John.

Answers 1

Yes, Garlic should be planted in the fall. If you plant garlic now, it will not produce well. It will be really small and hardly usable. Also, the only seed stock you will find is Garlic from other countries. That will not grow well for us anyway. It is best to wait till the fall, and purchase good local seed stock from Moss and it will produce well. Romanian red grows well for us in northern states. Since Romanian red is a popular Garlic I would recommend ordering soon to reserve it for fall delivery Www.keeneorganics.com
Policies
Return & Refund Policy
At this time, all sales are final and no refunds will be issued.
If you have received seeds that don't meet your expectations, contact us, and we will work with you to resolve the issue. Thank you for shopping with us!
Keene Hollenbeck
Sun Praitie, WI, United States
Established in 2005
Other Listings from Keene Organics Garlic: