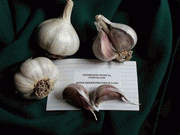 Tags:
Growing Practices: No Pesticides No Herbicides No Fungicides No Synthetic Fertilizers
Latin Name: Allium Sativum
Description:
Originated from the Republic of Georgia between the Black Sea and Caspain Sea • Large healthy garlic which is resistant to many garlic diseases • Raw: Robust, but not hot, flavor great for pesto & salsas Roasted: smooth and buttery • One of the longer storing porcelain garlics • Averages 4-6 cloves large, fat cloves per bulb • Growers will consistently get a medium/large size bulb usually around 2"+ from the large cloves
Questions 0 Total
Ask a Question About Georgian Crystal Porcelain Hardneck
Policies
Return & Refund Policy
At this time, all sales are final and no refunds will be issued.
If you have received seeds that don't meet your expectations, contact us, and we will work with you to resolve the issue. Thank you for shopping with us!
Keene Hollenbeck
Sun Praitie, WI, United States
Established in 2005
Other Listings from Keene Organics Garlic: