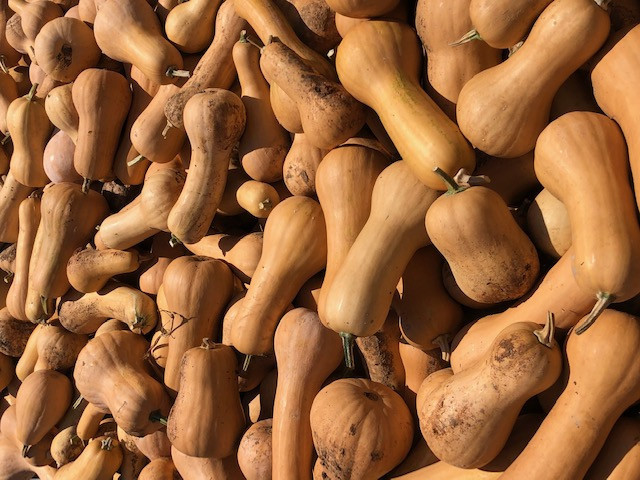 Tags: Certified Organic Open Pollinated
Growing Practices: No Pesticides No Herbicides No Fungicides No Synthetic Fertilizers
Latin Name: Cucurbita moschata
Days to Maturity: 115
Description:
Newly developed by Care of the Earth Community Farm in Corryton, Tennessee! Xiye Butternut comes from a cross between San Jose Mountain Club Squash (from Costa Rica) and Waltham Butternut, VA Select. This variety was bred, with the help of two SARE grants, specifically for resistance to downy mildew and to tolerate variable and unpredictable climatic conditions. Plants are fully vining and very productive, and the fruits have good flavor and sweetness. Squash is nutty and has a caramel or butterscotch flavor when roasted. Exterior color is an especially deep tan. Fruits average 5 pounds and have excellent storage capability. Megan and Lalo are selecting for thicker-necked, slightly bulbous, slightly grooved butternut-shaped squash - still expect some variability in butternut shape. Named in honor of climate activist Xiye Bastida. 280 seeds/ounce.

Xiye butternut carries the Open Source Seed Initiative (OSSI) pledge. OSSI is a movement to help combat corporate monopolization of seeds. Read more at www.osseeds.org.

Please click the Common Wealth Seed Growers link to the right to view all of our other listings!
Buy
Questions 1 Total
Ask a Question About Xiye Butternut - Certified Organic (Pre-Order)
Answer this question

How does this differ from South Anna?

Answers 1

Xiye and South Anna are both the products of wide crosses, intending to bring tropical or subtropical disease and pest resistance genetics into butternut. South Anna comes from Waltham butternut (from Massachussetts) crossed to Seminole Pumpkin (from Florida); and Xiye is from Waltham crossed to San Jose Mountain Club squash (from Costa Rica). South Anna was bred at Twin Oaks Seed Farm in Louisa, VA, and Xiye was bred at Care of the Earth Community Farm in Corryton, Tennessee. South Anna is at about 10 generations currently while Xiye is at six generations. Selection on both is ongoing. Xiye is still a little more variable in terms of fruit size and shape. In our 2022 trial at Twin Oaks Seed Farm Xiye was slightly higher yielding, while South Anna had slightly higher brix and dry matter readings. They're both a lot tastier than commercial butternut. Both varieties have a deeper tan color than most butternut varieties.
Policies
Shipping Policies
We ship orders once a week on Friday, via US Postal Service. If you need expidited service we'll try to help - contact us at commonwealthseeds@gmail.com
Return & Refund Policy
Refunds are on a case-by-case basis. Please contact us with your concerns and we will be happy to be of service.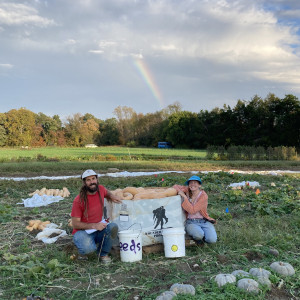 Common Wealth Seed Growers Cooperative
Louisa, VA, United States (Zone 7a)
Established in 2014
14.00 acres in production
Other Listings from Common Wealth Seed Growers: