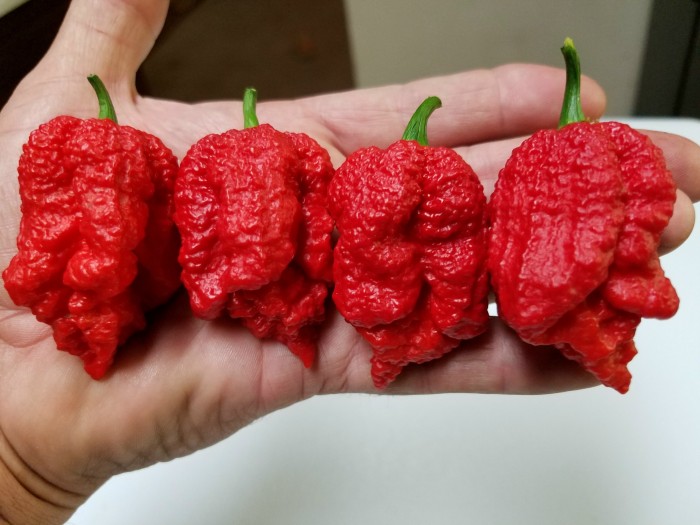 Tags: Open Pollinated
Growing Practices: No Pesticides No Herbicides No Fungicides
Latin Name: Capsicum chinense
Days to Maturity: 90-120
Description:
Borg 9 Red-(Capsicum chinense)- Jon Harper an expert grower from the U.K. is the creator behind this chile. To understand you must see the history. Jon first made the 7 Pot Bubblegum which is known for the color of the pepper bleeding up the calyx and up the stem. This is a Moruga/Yellow 7 Pot cross. Later he crossed the 7 Pot Bubblegum into the Naglah (Bhut Jolokia X 7 Pot Douglah). This then became know as the Borg 9. Why he named it Borg 9 I don't know. Some say it was nick named after actor Ernest Borgnine. Some say it is named after the infamous Borg aliens from Star Trek series. If I ever talk to Jon I will correct this. Now there is some sweetness to the Borg 9. Some say it's like an extreme Ghost flavor which is kind of earthy or smoky. The Borg 9 Red chile plants grow up to 4 feet tall. No official testing has been done but some believe it may be one of the worlds hottest chiles.
Growing Tips:
Comes with order.
Buy
Questions 0 Total
Ask a Question About Borg 9 Red
Policies
Shipping Policies
All shipping is done within Two to Three Business Days. Shipping is done by USPS First Class Mail.
Return & Refund Policy
We stand behind our seeds and plants. We give a one page grow sheet with all orders and will even get on the phone to help you grow. If you follow advice we stand by everything. No reasonable requests for replacements will be turned away! Plants are guaranteed 7 Days after receiving. Under certain circumstances we will replace beyond this.
Other Policies
Also if your order gets lost or damaged by our wonderful Postal System we will take care of you!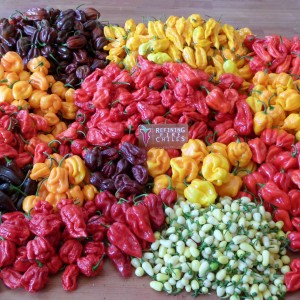 James Duffy
Lindale, GA, United States (Zone 10a)
Established in 2004
1.00 acres in production
Other Listings from Refining Fire Chiles: