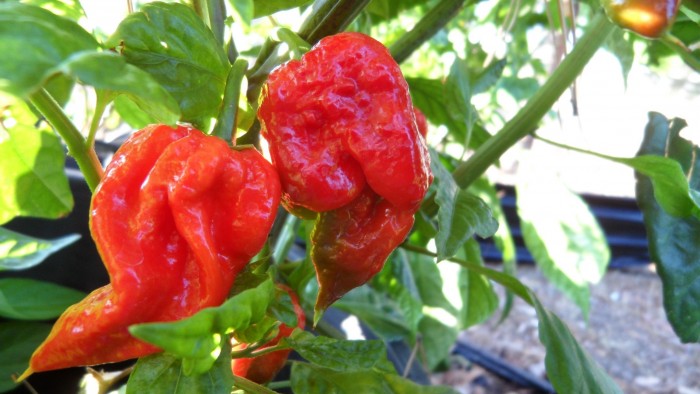 Tags: Heirloom Open Pollinated
Growing Practices: No Pesticides No Herbicides No Fungicides
Latin Name: Capsicum chinense
Days to Maturity: 120
Description:
Trinidad Butch T Scorpion-(Capsicum chinense)-Have you ever been stung by a Scorpion? Now from the tropical Island of Trinidad comes the Trinidad Scorpion chile. So hot it is hotter than the Bhut Jolokia and Naga Morich. The Island of Trinidad is in the Caribbean northeast of Venezuela. Trinidad Scorpion pods have a pebbly skin surface like a Bhut Jolokia or Naga Morich. But are more plump and sometimes have a little tail. The tail gives it the nickname Scorpion. It has a slight fruity and citrus flavor. Trinidad Scorpion Plants produce abundant pods. The pods ripen from green to orange to red. The Trinidad Scorpions most are growing here in the United States are the smaller hotter variety called the Butch T Strain. Back in 2004 a chile grower and sauce maker named Butch Taylor traded with a seed bank. The seeds for the Trinidad Scorpion were from a grower from New Jersey. Butch grew 3 plants and they looked slightly different from the original growers pods. Butch Taylor's peppers were more consistent in shape and most had well defined Scorpion tails. Butch saved all the peppers and seeds from that year and then shared them with people all over the World. Much like Johnny Appleseed instead of apples it was Scorpion seeds. He has been growing them now for over 7 years and many growers like myself have had the benefit of having this pure consistent strain. Butch Taylor is also the owner and creator of Zydeco Sauces from Louisiana. These Butch T Scorpions were tested in late March 2011 and came in at over 1,460,000 Scoville units.
Growing Tips:
Sheet comes with order.
Buy
Questions 0 Total
Ask a Question About Trinidad Butch T Scorpion
Policies
Shipping Policies
All shipping is done within Two to Three Business Days. Shipping is done by USPS First Class Mail.
Return & Refund Policy
We stand behind our seeds and plants. We give a one page grow sheet with all orders and will even get on the phone to help you grow. If you follow advice we stand by everything. No reasonable requests for replacements will be turned away! Plants are guaranteed 7 Days after receiving. Under certain circumstances we will replace beyond this.
Other Policies
Also if your order gets lost or damaged by our wonderful Postal System we will take care of you!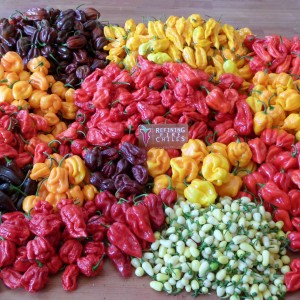 James Duffy
Lindale, GA, United States (Zone 10a)
Established in 2004
1.00 acres in production
Other Listings from Refining Fire Chiles: