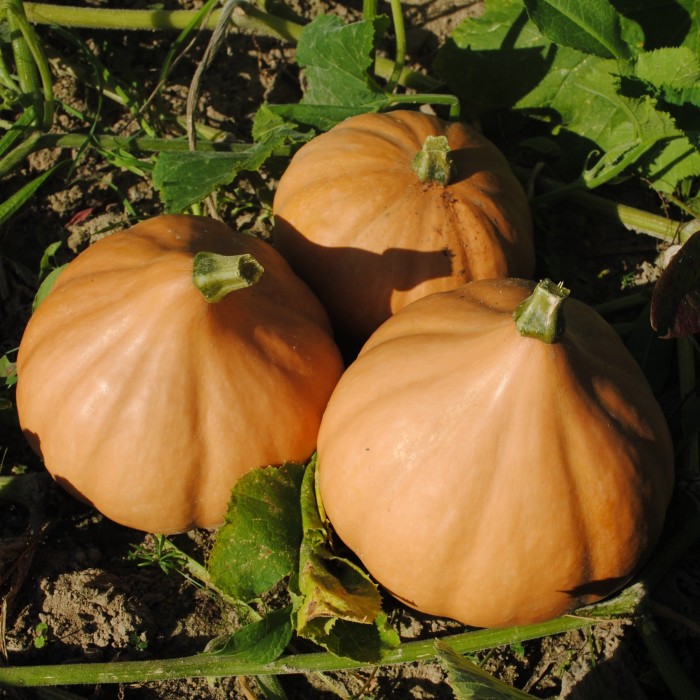 Tags: Certified Organic Heirloom Open Pollinated
Growing Practices: No Pesticides No Herbicides No Fungicides No Synthetic Fertilizers
Latin Name: Cucurbita moschata
Days to Maturity: 105
Description:
Small tan pumpkins on Downy Mildew resistant vines. Sweet flavor and deep orange interior, though with a rather large seed cavity. The exterior ripens to a deep tan color, but they can be harvested while still partially green. Good keepers. Average 3 pounds. Good as summer squash when picked small.
In 2017 we did a selection project with Seminole as part of a Producer SARE grant we received for work with winter squash. We grew 42 plants at Sycamore Farm, each trained and evaluated separately for Downy Mildew, Bacterial Wilt and yield. The top 20 plants were then evaluated for eating quality. We noticed that none of the fruits had off flavors, which we often find with butternuts. The brix and dry matter were quite good for the top selections. We think this work will go a long way to improve the quality of the variety!
Since this selection project was not done in an isolated field, all the seed is hand pollinated, which means quantity is limited. The seed we are selling now is only from above-average plants that we happened to cross to each other, which should yield some improvement in the quality of plants and fruits. In our 2017 seed growout we will plant only the top self-pollinated selections, which should create a significantly improved seedstock, available in 2018 in bulk quantities. Grown by Sycamore Farm. Certified Organic by Baystate Organic Certifiers.
Story of this Seed:
Questions 1 Total
Ask a Question About Seminole Pumpkin
Answer this question

How did the pumpkin perform re bacterial wilt resistance?

Answers 1

Yes thanks for the question. In 2016 our Seminole breeding trial (and production crop) had a good bit of bacterial wilt, while no other C. moschata squashes had it. Our best selections from the breeding trial had no wilt, but the benefit of that selection won't pay off till next year's seed crop. The seed we have for sale here is from plants with less BW than the average, but not necessarily enough to make a significant difference.
Edmund for CWSG
Policies
Shipping Policies
We will do our best to ship out our orders within 2 business days; however, this changes to approximately 5 business days if you order seed from August through October as we are in the midst of harvest season. We ship USPS.
Return & Refund Policy
Refunds are on a case-by-case basis. Please contact us with your concerns and we will be happy to be of service.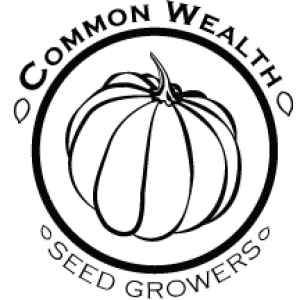 A Seed Growers Cooperative
Louisa, VA, United States (Zone 7a)
Established in 2014
15.00 acres in production
Other Listings from Common Wealth Seed Growers: