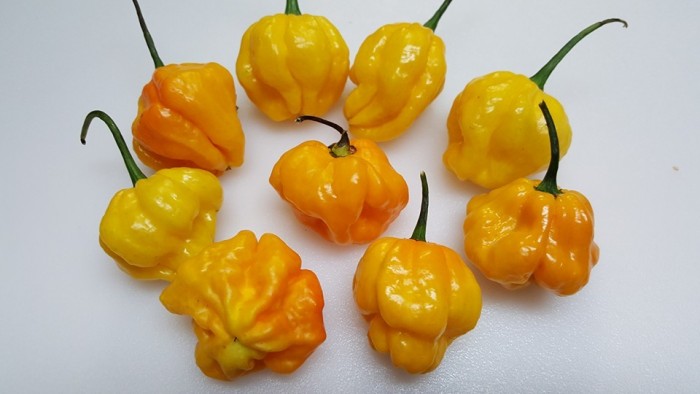 Tags: Heirloom Open Pollinated
Growing Practices: No Pesticides No Herbicides No Fungicides
Latin Name: Capsicum chinense
Days to Maturity: 75-90
Description:
Scotch Bonnet TFM-(Capsicum chinense)-Also called TFM Scotch Bonnet. TFM is supposed to stand for Trenton Farmers Market which is in the State of New Jersey in America. The market has some native Caribbean vendors and customers like some markets in New York and Florida. This is where this variety of Scotch Bonnet came into the hands of American chile enthusiasts. Everyone has different tastes so we cannot claim this to be the best or tastiest of all Scorch Bonnet peppers. But most who have tried the Scotch Bonnet TFM do say it's delicious and one of the best! A must grow if you love Scotch Bonnets! It has fruity tones with habanero heat. But not a punishing heat. The TFM Scotch Bonnet Chile plants grow over 4 feet tall and are very prolific. The peppers ripen from green to a yellow orange.
Growing Tips:
Comes with order.
Buy
Questions 0 Total
Ask a Question About Scotch Bonnet TFM
Policies
Shipping Policies
All shipping is done within Two to Three Business Days. Shipping is done by USPS First Class Mail.
Return & Refund Policy
We stand behind our seeds and plants. We give a one page grow sheet with all orders and will even get on the phone to help you grow. If you follow advice we stand by everything. No reasonable requests for replacements will be turned away! Plants are guaranteed 7 Days after receiving. Under certain circumstances we will replace beyond this.
Other Policies
Also if your order gets lost or damaged by our wonderful Postal System we will take care of you!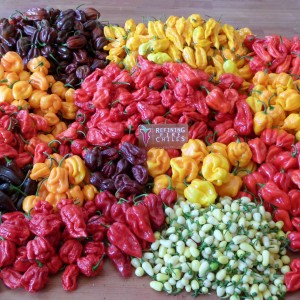 James Duffy
Lindale, GA, United States (Zone 10a)
Established in 2004
1.00 acres in production
Other Listings from Refining Fire Chiles: