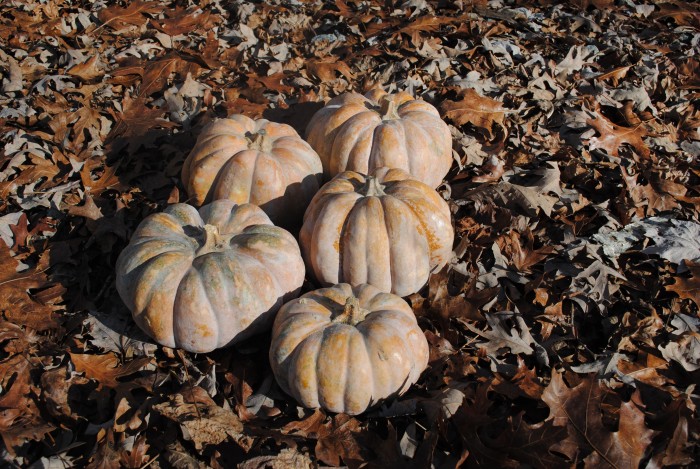 Tags: Certified Organic Open Pollinated
Growing Practices: No Pesticides No Herbicides No Fungicides No Synthetic Fertilizers
Latin Name: Cucurbita moschata
Days to Maturity: 120
Description:
Chinese Tropical Pumpkin is amazingly rich and sweet, with creamy texture, high dry matter and brix readings, bright orange interior and a flavor of chestnuts or hazelnuts. It is Edmund and Sapphyre's favorite. At harvest, fruit color is a mix of pink, green and blue, with a white bloom (like the white outer layer on some blueberries). During storage they ripen to a deep tan color. The ribbed pumpkins average 4 pounds.

This seedstock comes from a Taiwanese hybrid called Crowning. We have mostly only seen mild segregation (at first we didn't think it had been a hybrid). Occasionally necked fruits or darker fruits appear, and there has been variation in eating quality (from good to excellent). In 2016 at Twin Oaks, as part of our winter squash SARE grant , River Oneida grew 40 plants, training and evaluating each one separately and selecting for eating quality, dry matter, high brix, productivity and Downy Mildew resistance. We're selling only seeds from the best 10 plants. Chinese Tropical Pumpkin has good DM resistance and was one of the top performers in Twin Oaks' 2014 Downy Mildew trial. Not a long keeper. Plan on using the squash in the fall, before the end of the year. Grown by Twin Oaks Seed Farm. Certified Organic by QCS.

Questions 2 Total
Ask a Question About Chinese Tropical Pumpkin
Answer this question

Thank you. I'm in the mountains of WNC where we have delightfully cool summers. Today is Day 120 for my Chinese Tropical and they are still mottled dark green/light green. And the vines are starting up all over again and setting more fruit. I love this plant!

Answer this question

Help! Can you tell me what seed I have? Ordered the Chinese Tropical, but at 110 days, they look NOTHING like your photo. The foliage is absolutely gorgeous variegated philodendron-like leaves, fruit is moschata, roundish, dark green/light green that is turning to yellow variegated,, 2-3 lbs,, slightly ribbed, straight 10-inch stems. Can't wait to taste!

Answers 1

The picture we have is from around Thanksgiving time. At harvest, fruits should be pink and greenish blue, with a powdery finish like that found on many blueberries and apples. Where are you located? Days to maturity are a relative and inexact measure because of how much conditions vary from place to place and year to year. Hopefully frost is still a ways off for you and the the fruits will have time to mature fully. Edmund for CWSG
Policies
Shipping Policies
We will do our best to ship out our orders within 2 business days; however, this changes to approximately 5 business days if you order seed from August through October as we are in the midst of harvest season. We ship USPS.
Return & Refund Policy
Refunds are on a case-by-case basis. Please contact us with your concerns and we will be happy to be of service.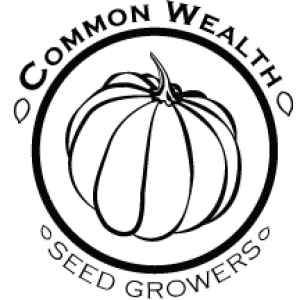 A Seed Growers Cooperative
Louisa, VA, United States (Zone 7a)
Established in 2014
15.00 acres in production
Other Listings from Common Wealth Seed Growers: