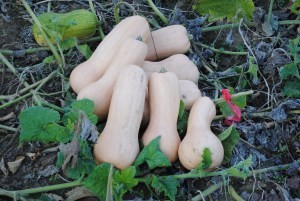 Tags: Certified Organic Open Pollinated
Growing Practices: No Pesticides No Herbicides No Fungicides No Synthetic Fertilizers
Latin Name: Cucurbita moschata
Days to Maturity: 110
Description:
Downy Mildew resistant butternut from the fifth generation of a cross between Waltham butternut and Seminole pumpkin. Intensively selected for eating quality, Downy Mildew resistant foliage, yield and shape.

Edmund Frost has been working with this seed since 2011, starting with a cross between Seminole Pumpkin and Waltham Butternut. The variety name will be South Anna Butternut (named after the river that runs past Twin Oaks Community in Louisa, Virginia) though we're not quite ready to call it that.

In 2016 (with help from a SARE grant) we intensified the selection work, growing 108 plants, all trained and evaluated separately. We are selecting for Downy Mildew resistance, productivity, eating quality, brix, dry matter, keeping quality, and butternut shape. This seed comes from the best 17 plants from 2016, and should be a significant improvement over the F5, especially in terms of eating quality (as measured by brix tests, dry matter tests and tasting).

While improvements will continue through 2018, we are quite excited about the progress made to date. Expect 90% butternut-shaped fruits, with good productivity, Downy Mildew resistance, rich sweet flavor, and good keeping quality. Immature fruits vary between light and dark green in color (most immature butternuts are light green). The dark green ones take longer to turn fully tan, but when they do you can be sure that they are ripe.

This variety will avoid the crop failure that can occur in years when Downy Mildew comes early, and provide higher yields in years with average DM pressure. The healthier foliage also leads to better fruit quality, with sweeter, riper fruits of a rich tan color. When used as a late planting, South Anna grows strong until frost, allowing for later harvests that will keep better into the winter and spring.

We've pledged Seminole-Waltham F6 as an Open Source Seed Initiative (OSSI) variety. OSSI is a movement to help protect seed from corporate monopolization. Read more at osseeds.org. Not commercially available elsewhere. Grown at Sycamore Farm. Certified Organic by Baystate Organic Certifiers.

Questions 8 Total
Ask a Question About Seminole-Waltham F6 Butternut Squash
Policies
Shipping Policies
We will do our best to ship out our orders within 2 business days; however, this changes to approximately 5 business days if you order seed from August through October as we are in the midst of harvest season. We ship USPS.
Return & Refund Policy
Refunds are on a case-by-case basis. Please contact us with your concerns and we will be happy to be of service.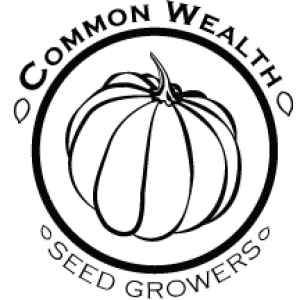 A Seed Growers Cooperative
Louisa, VA, United States (Zone 7a)
Established in 2014
15.00 acres in production
Other Listings from Common Wealth Seed Growers: