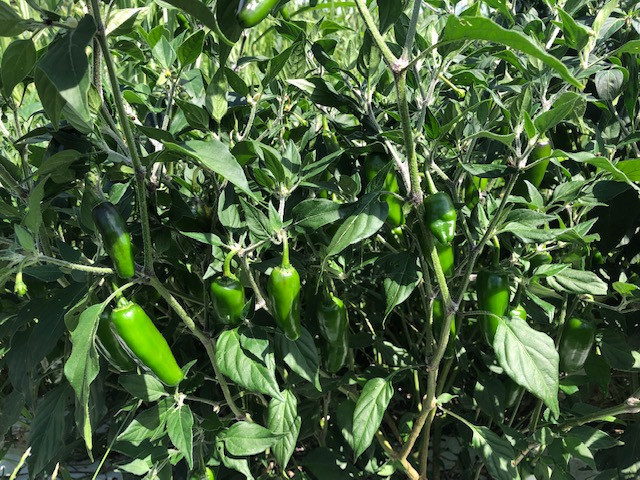 Tags: Certified Organic Heirloom Open Pollinated
Growing Practices: No Pesticides No Herbicides No Fungicides No Synthetic Fertilizers
Latin Name: Capsicum annuum
Days to Maturity: 74 days
Description:
Lalo at Care of the Earth Community Farm received this unnamed variety from his mother Ofelia in 2016. It is originally from the southern Mexican state of Veracruz, where it is used for fresh green chiles and for chilpotles. It has medium-thick walls, a wonderful, fruity flavor, and is spicy (spicier than Early Jalapeno). It also ripens well and dries well. Most fruits are conical; however, some are more square (squarer fruits have some tendency to fungal growth in the seed cavity at full ripeness, and Lalo and Megan have been choosing away from that shape). Fruits are longer and less stocky than Early Jalapeno, at 3-4". They exhibit checking as they mature, though green fruits can be picked without checking.
The 36" tall plants have good architecture, and although not stocky, they do not have problems with lodging. Leaves are fuzzy. Good leaf cover, and we haven't had problems with sunscald or any other diseases with this variety. Veracruz Jalapeno is more productive than Early Jalapeno, although 10 days later. It handles both wet and dry periods well and is particularly a standout during drought. It produces until first frost.
Lalo and Megan have been growing and adapting this variety to their farm since 2017. They will share profits of these seeds equally with a group of local farmers in El Sauzal, Veracruz, Mexico and a local food pantry in Juan Diaz Covarrubias, Veracruz, Mexico, as part of their cooperation with the last few local, sustainable vegetable farmers in Hueyapan and Los Tuxtlas, Veracruz (The Hueyapan Project).



Buy
Questions 0 Total
Ask a Question About Veracruz Jalapeno - Certified Organic (Pre-Order)
Policies
Shipping Policies
We ship orders once a week on Friday, via US Postal Service. If you need expidited service we'll try to help - contact us at commonwealthseeds@gmail.com
Return & Refund Policy
Refunds are on a case-by-case basis. Please contact us with your concerns and we will be happy to be of service.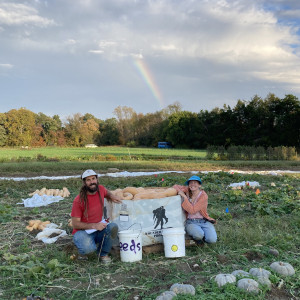 Common Wealth Seed Growers Cooperative
Louisa, VA, United States (Zone 7a)
Established in 2014
14.00 acres in production
Other Listings from Common Wealth Seed Growers: