Doug Butikofer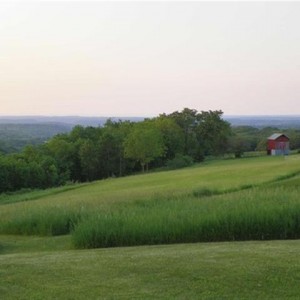 About the Farm
There is something very satisfying about growing seeds from varieties that have been handed down through generations of families: it provides a feeling of connection to the people who have gone before. I always think about the lives they lived , how hard they worked, how life dealt them joys and sorrows just like it does to all of us. I am thankful that I can play a part in preserving theses seeds and their stories and share them so that they can continue to survive.

At Back Home Farm we believe in leaving the world a better place than when we found it. We are a small family farm located in the driftless region of Wisconsin. The driftless region was missed by the glaciers creating bluffs and deeply carved river valleys. The land remains the same as it was a thousand years ago. We have restored the barn located on a forested hillside with an open prairie on the top of the slope. Back Home Farm is situated on the side of Blue Mound in Wisconsin.

We have 8 acres with 2 of the acres in production. The land supports 1.5 of woodland, open prairie, an orchard of grafted heirloom fruit trees with the scion wood from the historic Seedsavers Exchange Orchard, a small vineyard of cold hardy grapes bred by the pioneer grape breeder, Elmer Swenson, collected from Lon Rombough, and an apiary using the warre hive and natural beekeeping practices.
Our Commitment to Quality Seed
As a small family farm we are able to emphasize quality and not quantity allowing our farm to produce a quality product that we can be proud of. Only selling the purest seed we can collect.
Our Growing Practices
Our passion is to care for the land as those who settled and cared for the land before us. We follow Organically sound practices however are not Organic Certified. All of our plants and seeds are non GMO, open pollinated, and heirloom varieties. All plants are grown proper distance from each other and are isolated if the variety call for this, to allow for the purest seed possible.
Our Seed Farming Experience
Doug has been a member of Seedsavers Exchange in Decorah Iowa since 2009, he grew up on a family farm in Iowa that has been passed on for generations since 1856. Along with the farm, knowledge has been passed along for generations including the practices of caring for the land and proper seed saving techniques.
Regional Adaptation
Back Home Farm is located in zone 5a, all seeds are collected from plants on our farm in Blue Mounds, WI and from our potager in La Grange ,IL, allowing the plants to adapt to the Midwest climate and thrive in these regions.
Seed Listings
---