Pd Farms/Greifs Gourmet Garlic
Located in Elgin, OR, United States (Zone 6a)
0 Total Reviews
Farm Facts
Established in 2003
5.00 acres in production
8 varieties for sale
Grows and Sells: Garlic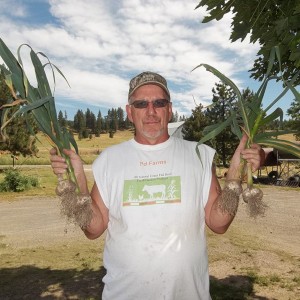 Phil Greif
About the Farm
My farm was started for the purpose of providing fresh organic food for our family. We grow All Natural Grass Fed Beef along with various fruits and vegetables.

All of our crops are irrigated from a 400 GPM artesian well. This provides pure uncontaminated water to grow plants we produce.

Garlic stood out as the most productive crop we produce. Being located in the foothills of the Blue Mtns in NE Oregon where more Gourmet Garlic is grown by several small farms than any other area I know. This has dubbed our location the Gourmet Garlic capital.

I am the sole grower, employee, owner doing all the production on the farm.
Our Commitment to Quality Seed
It requires healthy disease free seed to provide quality food is my purpose. Crop rotation is the key along with stringent record keeping.
Our Growing Practices
I farm using organic practices to keep the land free of chemicals so the land will stay healthy for the future. I do not believe in paying a fee to the government for providing healthy food. So the farm is not certified organic..
Our Seed Farming Experience
I grow garlic and potatoes for seed saving purposes. Mainly to keep the heirloom varieties available to small gardeners and farmers. My background is agriculture consulting of field and row crops.
Regional Adaptation
I do several test plots to determine which heirloom strains I will grow on the farm.
Seed Listings
---