Ridgeline Meadows Farm
Located in Applegate, OR, United States (Zone 8a)
0 Total Reviews
Farm Facts
Established in 2010
2.00 acres in production
1 varieties for sale
Grows and Sells: Lettuce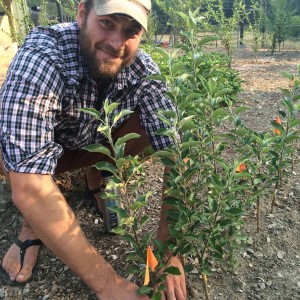 Andrew Schwarz
About the Farm
Ridgeline Meadows is a small-scale certified organic farm located in the heart of Applegate Valley on Thompson Creek Road. Andrew Schwarz moved to the valley four years ago and has been exploring this diverse area to find his niche. With the long dry summers here he has been implementing the age old farming technique of dry farming with his melons and newly planted orchard. This allows heirloom varieties to be grown that don't do well with water, which produces smaller fruit with outstanding flavor. He is also grows certified organic seed crops for a number of small seed companies and is experimenting with producing dry farmed specific varieties.
Our Commitment to Quality Seed
Through watchful observation and walking my production fields I rogue out off types, flag strong and disease resistant stock seed plants and maintain full isolation distances per varietal requirements.
Our Growing Practices
I am certified organic through Stellar Certification Services. As the label of organic is watered down I am committed to soil health and nutrient dense agricultural products
Our Seed Farming Experience
Quality open pollinated seed is the fundamental basis of our agricultural system. My passion is to preserve this heritage and right for all. I have been growing seed for 4 years and have mentored under numerous seed elders throughout the Applegate Valley. I have been on the board of the Southern Oregon Seed Growers Association for 3 years and have helped expand the mentorship program with in our valley and increased farmer to farmer education out reach programs,.
Regional Adaptation
My passion project is to advance annual dry farming seed stocks. I will be entering my third year of saving dry farmed seed from my farm. Including zucchini, tomato, garbanzo, corn, potatoes, and squash.
Seed Listings
---