Victory Acres Farm
Located in Upland, IN, United States (Zone 5)
0 Total Reviews
Farm Facts
Established in 2006
10.00 acres in production
1 varieties for sale
Grows and Sells: Garlic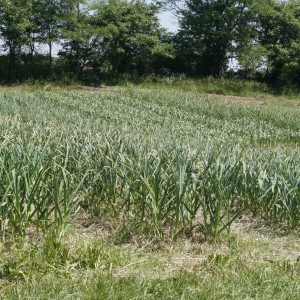 Eric Himelick
About the Farm
Victory Acres has been a working farm since the 1830's and has been connected to the Himelick family for six generations. For the past 25 years, the farm benefited from the USDA Conservation program, allowing the land to rest and add natural soil fertility. In the fall of 2005, Eric Himelick, VICM's board of directors, and the Himelick family began talking about Victory Inner-City Ministries purchasing the farm on contract and starting a community supported agriculture program as a way to fund the ministry. After they got the go-ahead from the Himelick family and the VICM Board, the purchase was completed in June 2006.

In the first two years, we went from 22 members to 100. This exponential growth was also accompanied by an expansion of infrastructure – a 3,000 square foot green house, a walk-in cooler, three cabins, a flock of chickens, and a new well were added during this period.

Each year, we continue to grow Victory Acres. In 2009, we added a pick-your-own blackberry and raspberry operation and began experimenting with grass-fed beef and pastured pigs. In 2010, we celebrated our fifth growing season, and Terry Himelick took on the responsibility of CSA manager. Again, we expanded, adding more animals--including Marino sheep and Cashmere goats--and planting 45 more trees in our growing orchard. Last year--2012--was also notable for its growth and change. We launched a small-farm incubator program--called Growing Growers--that enabled five new specialty-crop farmers to develop their own agricultural businesses. We also constructed a beautiful new shelter house to host community events and share with our members. In addition, we hosted educational workshops, book discussions, guided trail walks, and community-building events--including Think Outside the Barn!--which attracted over 250 visitors and included sustainable gardening workshops, live music, and booths for local artists and crafters. Today, we are in the midst of our 8th growing season. Terry Himelick has passed the CSA management baton to Leslie Gottschalk who will also act as agricultural coach for the Growing Growers program. Terry will continue to advise the CSA as its Master Farmer and also apply his farm knowledge to animal management. The farm team is looking forward to another great season of fresh vegetables, community events, and wholesome work!

While Victory Acres continues to draw on its rich heritage and maintain the traditions in which it is so firmly rooted, we are constantly welcoming new people from all walks of life to our 114-acre farm in north-central Indiana. We invite you to join us!
Our Commitment to Quality Seed
We select the best each year to put back. We plant separate varieties in different beds and we only plant back cloves of garlic to be sure that we are getting garlic that produces true to type.
Our Growing Practices
We use organic growing practices because we are true farmers. We love the land, and we want to care for it like our family has for the past six generations. We go above and beyond to be sure that our soil is cared for. Healthy soil produces healthy plants, and that is better for all of us.
Our Seed Farming Experience
We began growing and replanting our own seed garlic in 2007. Overtime, we have developed four main garlic varieties that have done very well for us.
Regional Adaptation
We select based on the garlic that thrives in our midwest soil. If heads are small or if there are disease issues, that garlic is eliminated immediately upon harvest. We are looking for the best that will continue to get better year after year.
Seed Listings
---