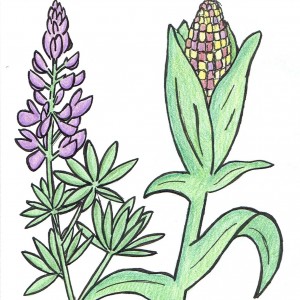 Jonathan Spero
About the Farm
Lupine Knoll was started to test and develop new vegetable varieties. We are located in the Applegate valley of southern Oregon. Our climate has a long, dry fall season which is ideal for dry-seeded crops. My wife Jessie and I are the principal owner/operators, and we hire part-time, seasonal help.
Our Commitment to Quality Seed
We use standard isolation practices. Lupine Knoll Farm practices an extensive selection process. Siber Frills kale has been selected at 1:1000. Sweet corn varieties are subjected to rigorous taste testing of the secondary ear. More information about our varieties can be seen on our website at http://lupineknollfarm.com/
Our Growing Practices
I've been farming organically for forty years, and have never used synthetic pesticides.
Our Seed Farming Experience
I started growing and breeding seed as a way to make more locally adapted food available to my community. My mentors include Allan Kapuler, Carol Deppe, Jim Myers, and the folks at Oregon Tilth and the Organic Seed Alliance. All new varieties released by Lupine Knoll Farm are pledged as open source under the Open Source Seed Initiative (osseeds.org).
Regional Adaptation
All Lupine Knoll Farm crops are being adapted to regional conditions as well as low input and organic conditions.
Seed Listings
---