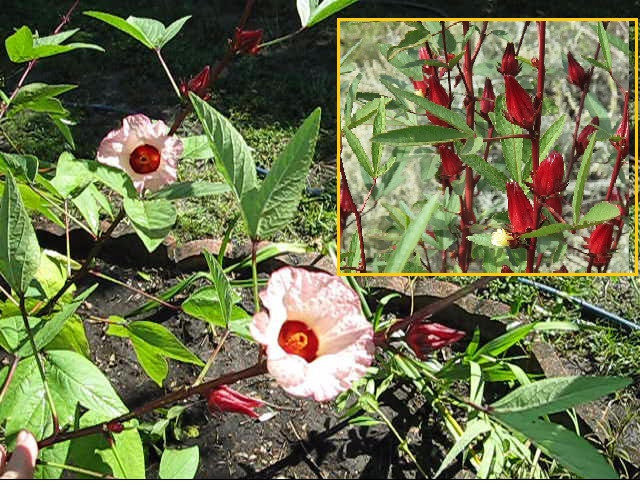 Tags: Heirloom Open Pollinated
Growing Practices: No Pesticides No Herbicides No Fungicides No Synthetic Fertilizers
Latin Name: Hibiscus sabdariffa
Days to Maturity: 60-90
Description:
10 EDIBLE HIBISCUS "ROSELLE" SEEDS, ORGANIC, FRESHLY HARVESTED

FAmily: Malvaceae

Genus: Hibiscus

Species: H. sabdariffa

Binomial name: Hibiscus sabdariffa

ALSO SPELLED ROSELLA IN SOME AREAS

COMMON NAMES: CRANBERRY HIBISCUS, RED HIBISCUS, FLORIDA CRANBERRY, SORRELL, FLORIDA HIBISCUS, JAMACIAN SORRELL AND MORE.

STANDARD HARDINESS ZONES ACCORDING TO THE INTERNET ARE ZONES 8-11 BUT PLANT CAN BE GROWN UP TO ZONE 6 IF STARTED EARLY INDOORS AND PLANTED AS A SHORT LIVED ANNUAL.

THIS IS THE GREEN LEAF VERSION. SMALL PETALED HIBISCUS FLOWERS, USUALLY CREAM/PINK COLOR WITH DARK RED THROAT.

THIS VERSION MAKES THE BEAUTIFUL RED CALYX THAT IS USED IN COOKING, BUT THE LEAVES AND FLOWERS ARE ALSO EDIBLE ACCORDING TO THE INTERNET SOURCE.

FAST GROWING IN CONTAINERS OR IN THE GROUND. THEY LIKE SUN BUT WILL GROW IN SOME SHADED AREAS. PROLIFIC BLOSSOMS. AFTER BLOSSOMING, A RED CALAYX IS FORMED. THE FRESH JUICY CALAYX IS USED TO MAKE SAUCES, SYRUPS, JAMS, JELLIES, AND OF COURSE THE FLORIDA CRANBERRY SAUCE. THE INTERNET IS FULL OF RECIPES.

EDIBLE, MEDICINAL, ORNAMENTAL, UTILITARIAN

I GROW THESE PLANTS IN ZONE 9B. PLEASE RESEARCH TO SEE HOW THESE PLANTS WILL GROW IN YOUR AREA.

ITEM IS SHIPPED FIRST CLASS USPS WITH TRACKING SINCE USPS IS STILL EXPERIENCING PROBLEMS.
Story of this Seed:
OUR FAMILY HAS BEEN GROWING THESE GREAT PLANTS FOR YEARS. IN OUR AREA THEY PRODUCE THE FRUIT/SEED IN THE FALL JUST IN TIME FOR THE HOLIDAYS. I MAKE A SIMPLE SYRUP WITH THE CALYX PETALS FOR GIFTS. TASTE WONDERFUL OVER ICE CREAM/CAKE.
Growing Tips:
EASY TO GROW - START THE SEEDS IN EARLY SPRING FOR YOUR HARDINESS ZONE.

SOAK THE SEEDS FOR AN HOUR OR SO AND PUT IN PREMOISTENED SOIL OF YOUR CHOICE. TRANSPLANT TO LARGER CONTAINERS OR INTO THE GROUND WHEN SEEDLINGS ARE SEVERAL INCHES TALL AND HAVE SEVERAL SETS OF LEAVES.

PLANTS ARE FROST SENSITIVE

Questions 0 Total
Ask a Question About ROSELLE, FL CRANBERRY, EDIBLE HIBISCUS SEEDS ORGANIC, FRESH
Policies
Shipping Policies
We strive to ship seeds the day after we receive the order, excluding weekends. We use USPS. We ship only to the contiguous US, the lower 48 states, due to high postage rates and custom regulations - thank you for understanding. Seedlings/cuttings will be shipped the first of the week, Monday, Tuesday and sometimes on a Wednesday, depending upon the destination. This way the seedlings do not sit in a post office over a weekend. We do not offer heat packs. All of our items are grown in planting zone 9B.
Return & Refund Policy
We have no refund policy. All seeds have been tested for germinaton. All seedlings,cuttingswill be freshly harvested and are in good condition when shipped.
Other Policies
We thank everyone for the opportunity to share our seeds and seedlings.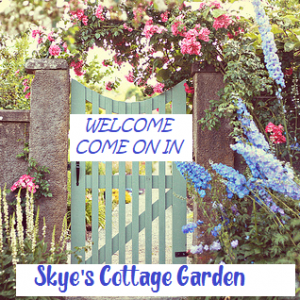 Eliseann Skye Dann
Ocoee, FL, United States (Zone 9b)
Established in 2009
0.50 acres in production
Other Listings from Skye's Cottage Garden: