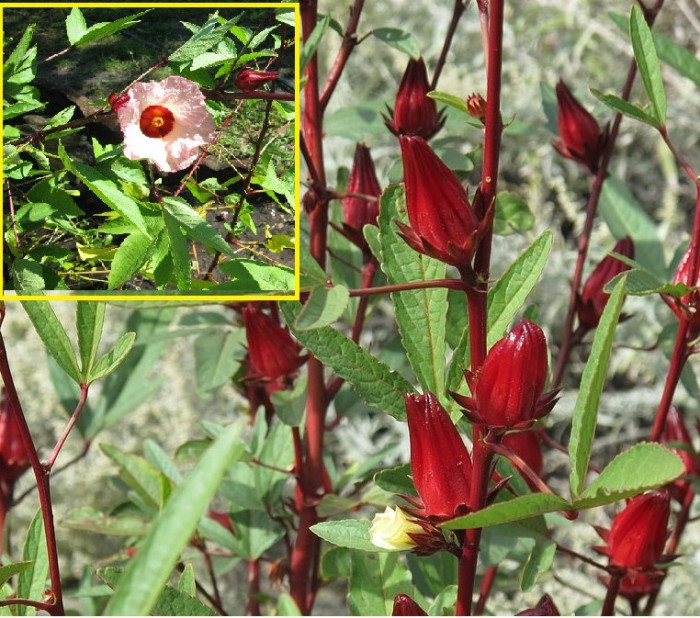 Tags: Heirloom Open Pollinated
Growing Practices: No Pesticides No Herbicides No Fungicides No Synthetic Fertilizers
Latin Name: Hibiscus sabdariffa
Description:
Family: Malvaceae
Genus: Hibiscus
Species: H. sabdariffa
Binomial name: Hibiscus sabdariffa

ALSO SPELLED ROSELLA IN SOME AREAS

THE PHOTO IS OF THE FLESHY CALYXES THE PLANT MAKES AFTER THE BLOOM DROPS WITH AN EXAMPLE OF THE BLOOM. THE CALYX IS WHY MANY PEOPLE GROW THIS PLANT.

COMMON NAMES: CRANBERRY HIBISCUS, RED HIBISCUS, FLORIDA CRANBERRY, SORRELL, FLORIDA HIBISCUS, JAMACIAN SORRELL AND MORE.

THIS IS THE GREEN LEAF VERSION. SMALL PETALED HIBISCUS FLOWERS, USUALLY CREAM COLOR WITH DARK RED THROAT.

THIS VERSION MAKES THE BEAUTIFUL RED CALYX THAT IS USED IN COOKING, BUT THE LEAVES AND FLOWER PETALS ARE ALSO EDIBLE.

THIS PLANT CAN BE GROWN IN CONTAINERS OR IN THE GROUND. I HAVE HAD PLANTS THAT REACHED OVER 8 FEET TALL AND WOULD FALL OVER FROM THE WEIGHT OF THE BLOOMS AND CALYX. PLANTING WITH SOME TYPE OF SUPPORT IS NICE. THE PLANT DOES TAKE TO PRUNING WELL AND CAN BE KEPT SHORTER.

ANNUAL IN COOLER CLIMATES. PERINNIAL IN WARMER CLIMATES

ROSELLE LOVES SUN AND WARMTH AND REQUIRES MEDIUM WATERING.

NOTE - I AM A BACK YARD GARDENER IN ZONE 9B. THE INFORMATION I SHARE IS FROM MY GROWING EXPERIENCE AND RESEARCH. PLEASE RESEARCH TO SEE IF THIS PLANT WILL GROW IN YOUR AREA.



Story of this Seed:
My cousin, Susan, got me hooked on this great plant. Many years ago she gave me one little seedling and she told me it was an edible hibiscus. My cousin was not the type to be interested in proper names, much less botanical names of plants. She just said it was the hibiscus you eat. Susan and her family had been growing this plant for some 15-20 years. According to many foragers most hibiscus have some edible parts and this variety is the best. I had to wait until the plant grew, produced flowers and in this case, the calyxes, before I could identify it. And I have been growing it every year.
Growing Tips:
GERMINATION SUGGESTIONS: SOAK THE SEEDS FOR SEVERAL HOURS IN ROOM TEMPERATURE WATER. PREMOISTEN POTTING MIX OF YOUR CHOICE. PLACE 1 OR 2 SEEDS IN EACH CELL AND LIGHTLY COVER WITH SOIL. GENTLY PRESS TO ASSURE GOOD SEED TO SOIL CONTACT. WATER WELL AND PLACE IN BRIGHT LIGHT.

ONCE THE SEEDS GERMINATE, TRANSFER TO LARGER CONTAINER OR INTO THE GROUND WHEN THE PLANTS HAVE SEVERAL SETS OF LEAVES OR HAVE OUTGROWN THEIR POT.

IF HAPPY THE PLANT CAN GROW OVER 6' TALL SO SUPPORT OF SOME TYPE MAY BE A GOOD THING TO ADD.
Questions 0 Total
Ask a Question About ORGANIC ROSELLE HIBISCUS SEEDS, EDIBLE, FL CRANBERRY
Policies
Shipping Policies
We strive to ship seeds the day after we receive the order, excluding weekends. We use USPS. We ship only to the contiguous US, the lower 48 states, due to high postage rates and custom regulations - thank you for understanding. Seedlings/cuttings will be shipped the first of the week, Monday, Tuesday and sometimes on a Wednesday, depending upon the destination. This way the seedlings do not sit in a post office over a weekend. We do not offer heat packs. All of our items are grown in planting zone 9B.
Return & Refund Policy
We have no refund policy. All seeds have been tested for germinaton. All seedlings,cuttingswill be freshly harvested and are in good condition when shipped.
Other Policies
We thank everyone for the opportunity to share our seeds and seedlings.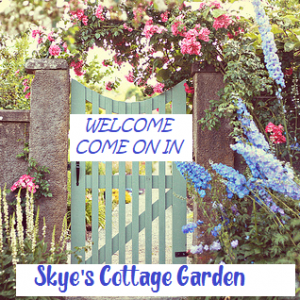 Eliseann Skye Dann
Ocoee, FL, United States (Zone 9b)
Established in 2009
0.50 acres in production
Other Listings from Skye Blue Gardens: