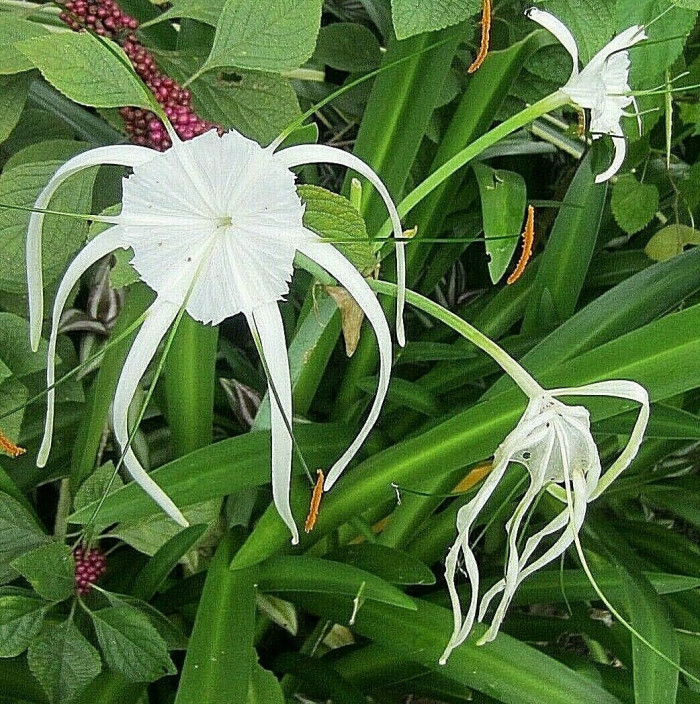 Tags: Heirloom Open Pollinated
Growing Practices: No Pesticides No Herbicides No Fungicides No Synthetic Fertilizers
Latin Name: (Hymenocallis Littoralis)
Days to Maturity: na
Description:
PLEASE NOTE: NO HEAT PACKS AVAILABLE. WE RECYCLE BOXES, ENVELOPES AND PACKING MATERIALS

FREE SHIPPING ON ORDERS OVER $35.00

SMALL BULBS HARVESTED AT TIME OF ORDER OF THE BEACH SPIDER LILY. SIZE WILL VARY ANYWHERE FROM THE BULB BEING THE SIZE OF A LARGE GRAPE TO A LITTLE SMALLER THAN A TENNIS BALL.

Family: Amaryllidaceae
Genus: Hymenocallis
Species: H. littoralis
Binomial name: Hymenocallis littoralis

THE LISTING IS FOR ORGANIC BULBS HARVESTED AT THE TIME OF ORDER. THE BULBS HAVE ROOTS AND ALL THE FOLIAGE WILL BE CUT OFF TO FACILITATE SHIPPING. THE BULBS WILL BE SHIPPED BARE ROOT VIA USPS FIRST CLASS MAIL THE FIRST OF THE WEEK SO THAT THE PACKAGE DOES NOT HAVE TO SIT IN A POST OFFICE OVER A WEEKEND.

BULBS MAY BE SLIGHTLY MISSHAPENED OR FLAT ON ONE SIDE WHERE THEY ARE REMOVED FROM THE MOTHER PLANT.

THIS IS A BEAUTIFUL AND DELICATE LILY. IT IS ORNAMENTAL AND PERENNIAL.

WE GROW OURS OUTSIDE IN THE GROUND IN ZONE 9B, BUT THEY CAN GROW VERY WELL IN CONTAINERS AND OVERWINTERED IN COOLER CLIMATES.

THE FLOWERS SMELL OF VANILLA.

THE PLANT PRODUCES PURE WHITE FLOWERS FROM MID-SUMMER TO FALL IN OUR AREA.

THE PLANT DOES BEST IN FULL SUN TO PARTIAL SHADE. IT CAN REACH ALMOST 3' IN HEIGHT. IT LOVES WELL DRAINING, RICH SOIL.

THE EVERGREEN LEAVES MAKE THIS A GREAT PLANT ALL YEAR ROUND.

THE PLANTS ARE GENERALLY PEST/DISEASE FREE AND MULTIPLY EASILY.

THE INFORMATION I PROVIDE IS FROM MY EXPERIENCE AND RESEARCH. PLEASE RESEARCH TO SEE HOW THIS PLANT WILL GROW AND PERFORM IN YOUR AREA.

THANK YOU AND HAPPY GARDENING.
Story of this Seed:
THIS LILY IS WHAT WE CALL A "PASS ME DOWN" LILY. IT HAS BEEN PASSED DOWN THROUGH NUMEROUS GENERATIONS. I REMEMBER MY GRAN HAD A LARGE PATCH AND PLAYING NEAR THEM WHEN IN BLOOM ALWAYS MADE ME WANT COOKIES BECAUSE OF THE VANILLA FRAGRANCE.
Growing Tips:
THE BEACH SPIDER LILY IS VERY EASY TO GROW. EITHER IN THE GROUND WHERE TEMPERATURE PERMITS OR IN CONTAINERS. WATER WELL STARTING EARLY SPRING AND THROUGHOUT SUMMER TO ENCOURAGE GROWTH AND BLOOMING. PLANT IN A WELL DRAINING, WELL COMPOSTED PLANTING MEDIUM. PLANT IN BUNCHES OR SCATTER THROUGH OUT THE LANDSCAPE. BEAUTIFUL SPECIMAN.
Questions 0 Total
Ask a Question About SMALL ORGANIC BEACH SPIDER LILY BULBS VARIOUS SIZES
Policies
Shipping Policies
We strive to ship seeds the day after we receive the order, excluding weekends. We use USPS. We ship only to the contiguous US, the lower 48 states, due to high postage rates and custom regulations - thank you for understanding. Seedlings/cuttings/plants will be shipped the first of the week, Monday, Tuesday and sometimes on a Wednesday, depending upon the destination. This way the seedlings do not sit in a post office over a weekend. We do not offer heat packs. All of our items are grown in planting zone 9B.
Return & Refund Policy
We have no refund policy. All seeds have been tested for germinaton. All seedlings,cuttingswill be freshly harvested and are in good condition when shipped.
Other Policies
We thank everyone for the opportunity to share our seeds and seedlings.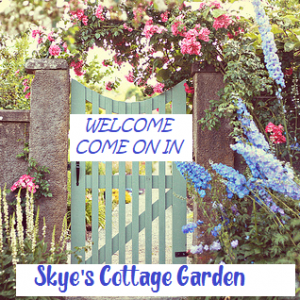 Eliseann Skye Dann
Ocoee, FL, United States (Zone 9b)
Established in 2009
0.50 acres in production
Other Listings from Skye's Cottage Garden: