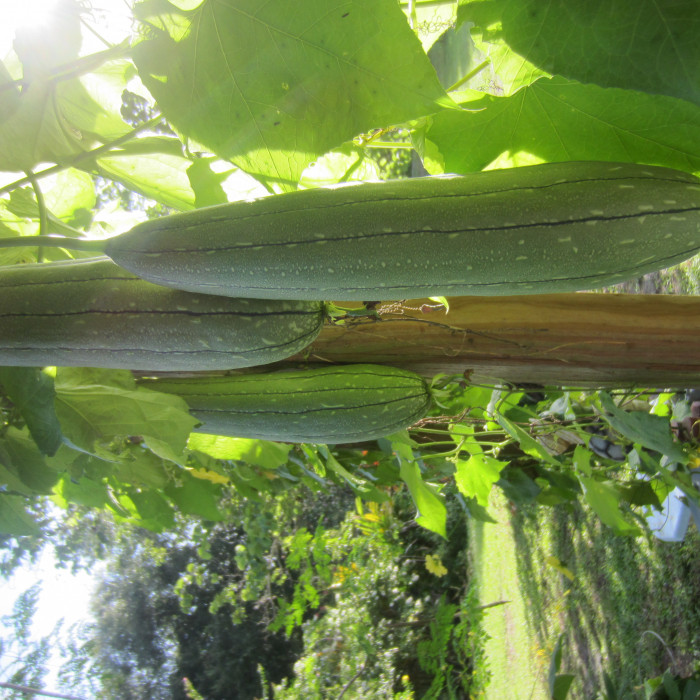 Tags: Heirloom
Growing Practices: No Pesticides No Herbicides No Fungicides
Latin Name: Family: Cucurbitaceae
Days to Maturity: 90-120
Description:
LOUFFA, LUFFA, LUFHA - 10 ORGANIC SEEDS

NO MATTER HOW YOU SPELL IT, LUFFAS ARE GREAT FUN TO GROW AND USE

Kingdom: Plantae
Clade: Angiosperms
Clade: Eudicots
Clade: Rosids
Order: Cucurbitales
Family: Cucurbitaceae
Subfamily: Cucurbitoideae
Tribe: Sicyoeae
Genus: Luffa

10 SEEDS, HARVESTED SEPTEMBER 2020 FROM THE LUFFAS IN THE PHOTO

GROWN ORGANIC

NOT FROST HARDY - NOT FROST HARDY, BUT THEY CAN GROW AS FAR NORTH AS ZONE 6 IF STARTED EARLY.

I HAVE HAD LUFFAS REACH OVER 2 FEET IN LENGTH DURING GOOD GROWING SEASONS, BUT A LENGTH OF 8" TO 12" IS A VERY NICE SIZE TO WORK WITH.

THEY REQUIRE APPROXIMATELY 3-4 MONTHS TO MATURE. BUT IF FED A GOOD COMPOST OR NUTRITION SOURCE AND WATERED REGULARLY, THAT TIME MAY BE CUT DOWN ACCORDING TO SOME SOURCES.

THE BLOSSOMS ARE GREAT FOR POLLINATORS.

THE SMALL, YOUNG GOURDS ARE EATEN IN SOME CUISINES.

THE BLOSSOMS ARE EATEN IN SOME CUISINES.

THE OLDER GOURDS ARE HARD AND FIBROUS AND ARE PERFECT FOR CRAFTS.

THE SPONGES CAN BE MADE INTO BATH SCRUBBERS, POT SCRUBBERS, CLEANING PADS, BASES FOR HOME MADE SOAP AND MORE. NOTE - THIS SPONGE IS NOT RELATED TO THE SPONGE FOUND IN THE OCEAN.

GREAT ACTIVITY TO SHARE WITH THE KIDS/GRANDKIDS.

LUFFAS WILL NEED SUPPORT SO GROW THEM ON A FENCE, TRELLIS OR EVEN AN OLD BRANCHED TREE.

FOR THE LUFFAS TO OBTAIN A NICE SHAPE, THE FRUIT NEEDS TO HANG COMPLETELY VERTICAL.

THANK YOU FOR YOUR INTEREST.


Story of this Seed:
THIS IS ANOTHER SEED THAT WAS PASSED DOWN THROUGH VARIOUS RELATIVES. THE CHILDREN AND GRANDCHILDREN LOVE TO GROW THIS GREAT PLANT. I HAVE MADE CRAFTS TO GIVE AS HOLIDAY GIFTS WITH LUFFAS. SUPER FUN AND DIFFERENT. VERY EASY TO GROW.
Growing Tips:
PRE MOISTEN SOIL IN CONTAINERS AND PLACE ONE SEED PER CELL. LIGHTLY COVER WITH SOIL AND GENTLY PRESS TO ASSURE GOOD SEED/SOIL CONTACT. WATER WELL AND PLACE IN A LOCATION THAT GETS GOOD LIGHT. DO NOT LET THE SOIL DRY OUT.

SEEDS CAN ALSO BE PLANTED DIRECTLY INTO THE SOIL.
Questions 0 Total
Ask a Question About ORGANIC LUFFA SEEDS, HEIRLOOM
Policies
Shipping Policies
We strive to ship seeds the day after we receive the order, excluding weekends. We use USPS. We ship only to the contiguous US, the lower 48 states, due to high postage rates and custom regulations - thank you for understanding. Seedlings/cuttings will be shipped the first of the week, Monday, Tuesday and sometimes on a Wednesday, depending upon the destination. This way the seedlings do not sit in a post office over a weekend. We do not offer heat packs. All of our items are grown in planting zone 9B.
Return & Refund Policy
We have no refund policy. All seeds have been tested for germinaton. All seedlings,cuttingswill be freshly harvested and are in good condition when shipped.
Other Policies
We thank everyone for the opportunity to share our seeds and seedlings.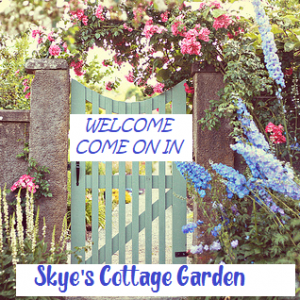 Eliseann Skye Dann
Ocoee, FL, United States (Zone 9b)
Established in 2009
0.50 acres in production
Other Listings from Skye Blue Gardens: