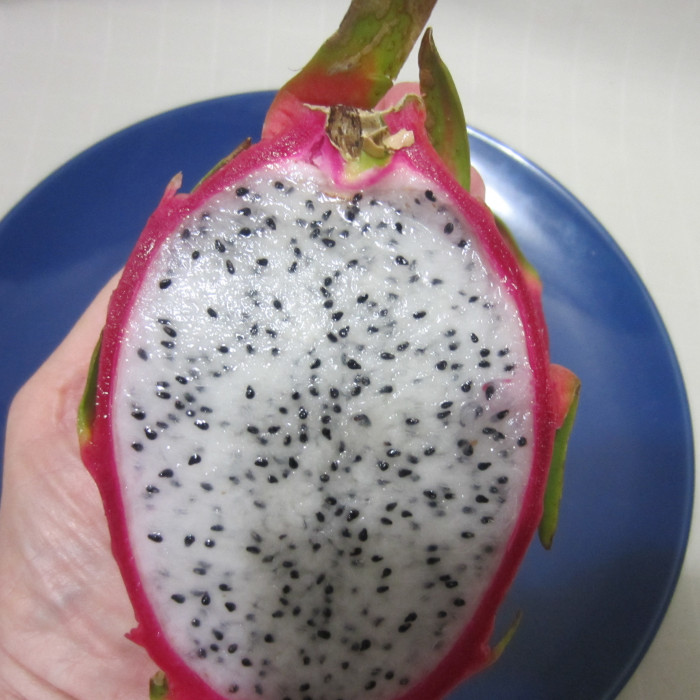 Tags: Open Pollinated
Growing Practices: No Pesticides No Herbicides No Fungicides No Synthetic Fertilizers
Latin Name: HYLOCERUS
Days to Maturity: VARIED
Description:
FREE SHIPPING ON ALL ORDERS OVER $35.00.

SEEDS OF THE WHITE FLESHED, RED DRAGON FRUIT

ALSO KNOWN AS PITAHAYA

Family: Cactaceae
Subfamily: Cactoideae
Genus: Hylocereus
Species: H. undatus

PRODUCES AN EDIBLE FRUIT LATE SUMMER IN OUR ZONE 9B

PRODUCES BEAUTIFUL FLOWERS THAT THE POLLINATORS LOVE

WITH TIME THE CACTUS CAN REACH 10' TO 15', BUT IT IS USUALLY GROWN AND TRAINED TO BEND OVER AND NOT GROW STRAIGHT UP (WITH SUPPORT)

THIS FRUIT HAS A WHITE FLESH FULL OF TINY BLACK SEEDS. THE FLESH IS SWEET AND CRUNCHY. THE SEEDS ARE EDIBLE AND ADD TEXTURE.

GREAT EATING ALONE OR MIXING WITH OTHER FRUITS

GOOD NUTRITIONAL VALUE

THE CACTUS MAKES A NICE ORNAMENTAL PLANT IN THE LANDSCAPE

THANK YOU

Story of this Seed:
THE SEEDS ORIGINALLY CAME FROM A NEIGHBOR. HER FAMILY HAS BEEN GROWING PITAHAYA FOR MANY YEARS. WE STARTED GROWING THEM ABOUT 10 YEARS AGO AND I HOPE TO ADD THIS TO ONE OF MY FAMILIES PASS ME DOWN CACTUS.
Growing Tips:
GERMINATION SUGGESTIONS: THERE ARE MANY WAYS TO GERMINATE THE SEEDS. I SOAK THE SEEDS IN ROOM TEMPERATURE WATER FOR A WHILE. SCATTER ON PRE-MOISTENED, SOFT, WELL DRAINING MEDIUM. LIGHTLY COVER THE SEEDS WITH MORE MEDIUM AND GENTLY PRESS TO ENSURE GOOD SEED/SOIL CONTACT.

BE PATIENT. WHEN THE SEEDS GERMINATE THEY WILL HAVE TINY LEAFLETS AND THEY DO NOT LOOK LIKE CACTUS AT ALL. SOON A SMALL CACTUS WILL APPEAR.

TRANSPLANT WHEN SEVERAL INCHES TALL OR THE PLANTS HAVE OUTGROWN THEIR CONTAINER. CAREFUL, EVEN THE BABIES HAVE SPINES.
Buy
Questions 0 Total
Ask a Question About DRAGON FRUIT, RED SKIN WITH WHITE FLESH, PITAHAYA, CACTUS
Policies
Shipping Policies
We strive to ship seeds the day after we receive the order, excluding weekends. We use USPS. We ship only to the contiguous US, the lower 48 states, due to high postage rates and custom regulations - thank you for understanding. Seedlings/cuttings/plants will be shipped the first of the week, Monday, Tuesday and sometimes on a Wednesday, depending upon the destination. This way the seedlings do not sit in a post office over a weekend. We do not offer heat packs. All of our items are grown in planting zone 9B.
Return & Refund Policy
We have no refund policy. All seeds have been tested for germinaton. All seedlings,cuttingswill be freshly harvested and are in good condition when shipped.
Other Policies
We thank everyone for the opportunity to share our seeds and seedlings.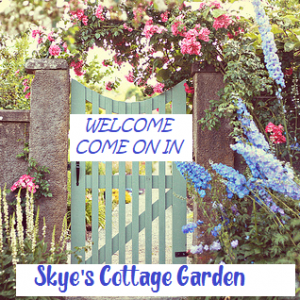 Eliseann Skye Dann
Ocoee, FL, United States (Zone 9b)
Established in 2009
0.50 acres in production
Other Listings from Skye's Cottage Garden: