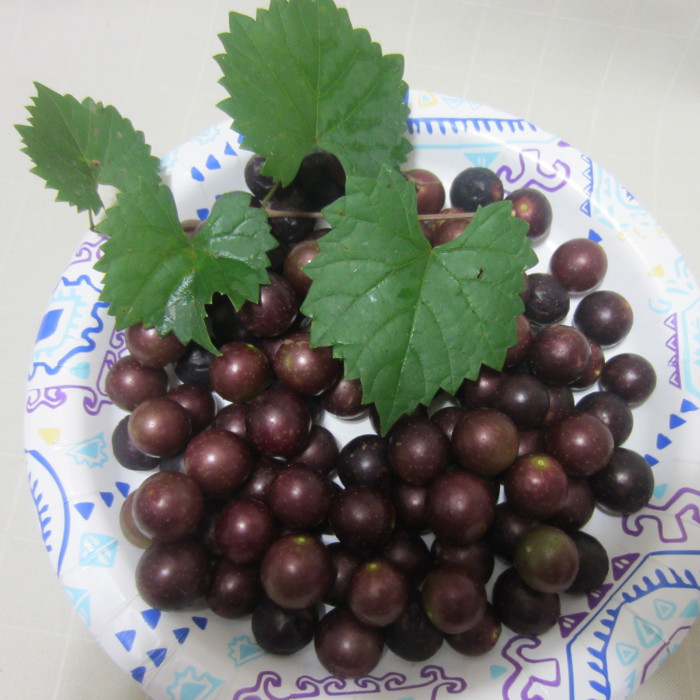 Tags: Heirloom Open Pollinated
Growing Practices: No Pesticides No Herbicides No Fungicides No Synthetic Fertilizers
Latin Name: V. rotundifolia
Days to Maturity: 90-120 DAYS
Description:
SEEDS, MUSCADINE GRAPE, HEIRLOOM, ORGANIC, EDIBLE, MEDICINAL, ORNAMENTAL

Order: Vitales
Family: Vitaceae
Genus: Vitis
Subgenus: Muscadinia
Species: V. rotundifolia
Binomial name
Vitis rotundifolia

HARVESTED AUGUST 2020

NO PESTICIDES, HERBICIDES OR CHEMICAL FERTILIZERS HAVE EVER BEEN USED ON OUR MUSCADINE GRAPES.

NATIVE TO SOUTHERN/SOUTH WESTERN US AND REQUIRES MINIMAL CHILL HOURS

HARDY IN ZONES 5 THROUGH 9. DECIDUOUS/SEMI DECIDUOUS. YOUNG PLANTS WILL LOSE ALL OF THEIR LEAVES SO GIVE THEM TIME TO SPROUT OUT IN THE SPRING.

MATURE PLANTS WILL REQUIRE SUPPORT

PREFERS FULL SUN BUT CAN BE GROWN WITH SOME SHADE

I DO NOT KNOW THE VARIETY NAME. WE HAVE BEEN GROWING MUSCADINES FOR GENERATIONS.

THIS VARIETY HAS DARK PURPLE SKIN WHEN RIPE. IT HAS A TOUGH SKIN AND SOFT GREEN FLESH.

MUSCADINES MADE EXCELLENT WINE, JAM AND JELLY.

THE GRAPES GROW IN SMALL CLUSTERS OF NORMALLY 3-6 GRAPES AND ARE USUALLY THE SIZE OF MARBLES. BUT I HAVE SEEN GRAPES GROW MUCH LARGER.

THE PRETTY LEAVES ARE ALSO USED IN SOME CULTURES IN CUISINE AND FOR MEDICINAL PURPOSES. PLEASE DO YOUR OWN RESEARCH IN REGARDS TO ANY MEDICINAL PROPERTIES.

THE GRAPES ARE NUTRITIOUS AND ARE FULL OF POLYPHENOLS.

THE PLANT PROVIDES HABITAT, SHELTER AND FOOD FOR MANY BIRDS AND SMALL WILDLIFE. IT IS THE HOST PLANT FOR LARVAE OF AT LEAST TWO TYPES OF MOTHS.


THANK YOU


Story of this Seed:
THIS IS ONE OF THOSE GREAT OLD NATIVE PLANTS THAT SEEMS LIKE HAVE ALWAYS BEEN GROWING IN SOME RELATIVES BACK YARD. GREAT PLANT FOR THE KIDS TO GROW AND GATHER THEIR OWN GRAPES. WHEN I WAS A CHILD, A COUPLE OF MY UNCLES AND MY DAD DECIDED THEY WOULD TRY MAKING WINE FROM THE GRAPES. MUSCADINE WINE IS SUPPOSEDLY REALLY GOOD - I DO NOT KNOW. ANYWAY, THEY GOT BIG JUGS, PREPARED THE INGREDIENTS, PUT BALLOONS ON THE TOP OF THE JUGS AND SECURED THE BALLOONS WITH RUBBER BANDS. I GUESS THEY FORGOT ABOUT THE JUGS BECAUSE ONE NIGHT WE HEARD A BOOM. WHEN MY PARENTS INVESTIGATED, THEY FOUND THAT THE FERMENTED MIXTURE HAD BLOWN ITS TOP ALL OF THE PORCH. MY MOM WAS NOT HAPPY AND THAT ENDED THAT EXPERIMENT (SMILE). BUT I DO KNOW OF FOLKS WHO HAVE HAD GREAT SUCCESS MAKING WINE AND JAM AND JELLIES.
Growing Tips:
GERMINATION SUGGESTIONS:

THIS IS HOW I DO IT IN ZONE 9B. SOAK THE SEEDS OVERNIGHT IN ROOM TEMPERATURE WATER. PLANT ONE TO TWO SEEDS PER CELL OR POT IN A PRE MOISTENED, WELL DRAINING, SOFT SOIL. LIGHTLY COVER SEEDS AND PRESS GENTLY TO ENSURE GOOD SEED/SOIL CONTACT.

MOISTEN WELL AND PLACE IN A WARM, WELL LIGHTED LOCATION

NOTE - BE PATIENT. SEEDS CAN TAKE A MONTH OR MORE TO GERMINATE.

SEEDS REQUIRE WARMTH AND MOISTURE. DO NOT LET THE SOIL DRY COMPLETELY OUT.

Questions 0 Total
Ask a Question About MUSCADINE GRAPE SEEDS, ORGANIC, HEIRLOOM
Policies
Shipping Policies
We strive to ship seeds the day after we receive the order, excluding weekends. We use USPS. We ship only to the contiguous US, the lower 48 states, due to high postage rates and custom regulations - thank you for understanding. Seedlings/cuttings will be shipped the first of the week, Monday, Tuesday and sometimes on a Wednesday, depending upon the destination. This way the seedlings do not sit in a post office over a weekend. We do not offer heat packs. All of our items are grown in planting zone 9B.
Return & Refund Policy
We have no refund policy. All seeds have been tested for germinaton. All seedlings,cuttingswill be freshly harvested and are in good condition when shipped.
Other Policies
We thank everyone for the opportunity to share our seeds and seedlings.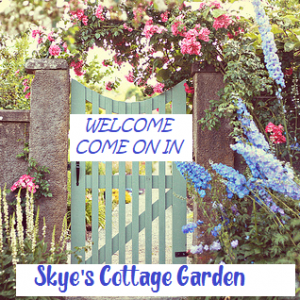 Eliseann Skye Dann
Ocoee, FL, United States (Zone 9b)
Established in 2009
0.50 acres in production
Other Listings from Skye Blue Gardens: