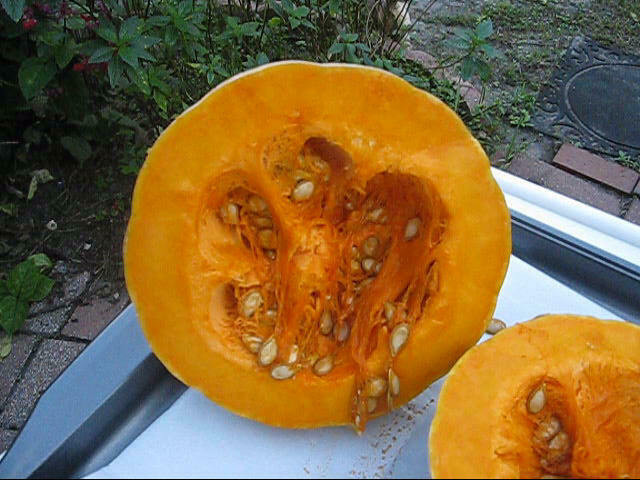 Tags: Heirloom Open Pollinated
Growing Practices: No Pesticides No Herbicides No Fungicides No Synthetic Fertilizers
Latin Name: CUCURBITA MOSHATA)
Days to Maturity: 90-120 DAYS
Description:
THE SEMINOLE PUMPKIN WAS GROWN AND UTILIZED BY MANY OF THE NATIVE INDIANS AND EARLY PIONEERS IN THE SOUTH EAST.

THERE ARE MANY VARIETY OF THIS PUMPKIN WITH THE NAME SEMINOLE. THIS IS A ROUND VERSION OF THIS PUMPKIN.

PALE COLOR SKIN AND BEAUTIFUL ORANGE FLESH. SMELLS GREAT. MEDIUM SIZE USUALLY WEIGHING 2-3 LBS BUT I HAVE SEEN THEM GET MUCH LARGER

MAKES GREAT PIES OR PREPARE IN ANY WAY YOU WISH

BLOSSOMS CAN ALSO BE EATEN. USE EITHER RAW IN SALADS, PICKLE THEM OR BATTER AND DEEP FRY THEM.

THIS IS A VINNING PUMPKIN THAT LOVES SUN, WATER AND NEEDS LOTS OF ROOM. TRAILS CAN REACH OVER 25'.

IT CAN TAKE 3 TO 5 MONTHS FOR THE PUMPKINS TO MATURE, DEPENDING UPON PLANTING AND ENVIRONMENTAL CONDITIONS.
TOLERATES HEAT

FOLKLORE STATES THE INDIANS USE TO GROW THE PUMPKINS ON GIRDLED TREES

NAMED AFTER THE SEMINOLE INDIAN TRIBE THAT GREW THE PUMPKIN AS ONE OF THEIR MAIN CROPS, BUT MANY OTHER TRIBES AND EARLY PIONEERS PLANTED THIS PUMPKIN.

THANK YOU FOR YOUR INTEREST AND HAPPY GARDENING.


Story of this Seed:
MY SEEDS ORIGINALLY CAME FROM A COUSIN WHO GOT THEM FROM A RELATIVE. WE HAVE A WRITTEN STORY ABOUT OUR 4TH GREAT GRANDFATHER WHO CAME TO CENTRAL FLORIDA IN THE EARLY 1840'S AND HOW HE WAS SET UPON BY THE INDIANS ON HIS WAY TO MARKET. HE HAD A CART FULL OF VEGETABLES, INCLUDING WHAT WE NOW CALL SEMINOLE PUMPKINS. THE INDIANS DID NOT HARM HIM, JUST TOOK HIS CART.

THERE ARE STORIES OF HOW THE EARLY INDIANS WOULD PLANT THE PUMPKINS AT THE BASE OF DEAD TREES AND HELP THE VINES ESTABLISH. WHEN PRODUCING THE PUMPKINS, ONLY THE BRAVEST BRAVES WOULD CLIMB UP THE TREES TO HARVEST THE PUMPKINS.

I HAVE ONE COUSIN THAT GROWS A LARGE PATCH OF PUMPKINS EVERY YEAR AND SELLS THEM AT LOCAL FARMER'S MARKET.

Growing Tips:
I SOAK THE SEEDS FOR ABOUT AN HOUR IN ROOM TEMPERATURE WATER. PLANT ONE SEED PER CELL OR POT. USE WELL DRAINING, PRE MOISTENED SOIL. COVER LIGHTLY WITH ADDITIONAL SOIL. PRESS GENTLY TO ASSURE GOOD SEED TO SOIL CONTACT.

WATER WELL AND PLACE IN A WARM LOCATION.

ONCE THE SEEDLING EMERGE, DO NOT LET THE POTS DRY OUT. TRANSPLANT INTO LARGER POTS OR FINAL DESTINATION WHEN THE SEEDLINGS ARE SEVERAL INCHES TALL AND HAVE THEIR 2ND OR 3RD SET OF LEAVES.

SEEDS CAN BE SOWN DIRECTLY INTO THE GROUND WHEN WEATHER PERMITS.

HAPPY GARDENING.
Questions 0 Total
Ask a Question About SEEDS SEMINOLE PUMPKIN, HEIRLOOM, ORGANIC
Policies
Shipping Policies
We strive to ship seeds the day after we receive the order, excluding weekends. We use USPS. We ship only to the contiguous US, the lower 48 states, due to high postage rates and custom regulations - thank you for understanding. Seedlings/cuttings will be shipped the first of the week, Monday, Tuesday and sometimes on a Wednesday, depending upon the destination. This way the seedlings do not sit in a post office over a weekend. We do not offer heat packs. All of our items are grown in planting zone 9B.
Return & Refund Policy
We have no refund policy. All seeds have been tested for germinaton. All seedlings,cuttingswill be freshly harvested and are in good condition when shipped.
Other Policies
We thank everyone for the opportunity to share our seeds and seedlings.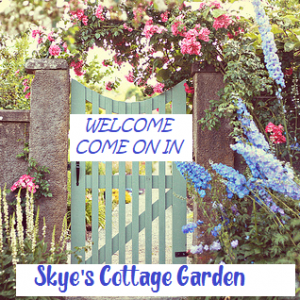 Eliseann Skye Dann
Ocoee, FL, United States (Zone 9b)
Established in 2009
0.50 acres in production
Other Listings from Skye Blue Gardens: