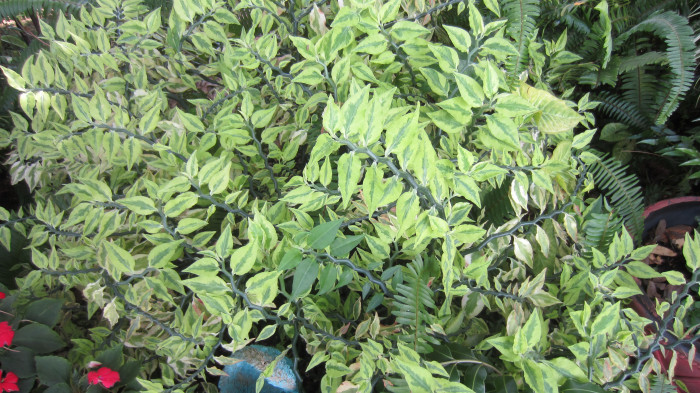 Tags: Heirloom Open Pollinated
Growing Practices: No Pesticides No Herbicides No Fungicides No Synthetic Fertilizers
Latin Name: Euphorbia tithymaloides (Pedilanthus)
Description:
PLEASE NOTE - LISTING DOES NOT INCLUDE A HEAT PACK. IF YOU ARE IN A FREEZING AREA, CONSIDER ORDERING WHEN THE WEATHER IS MILDER.

WE RECYCLE BOXES, PAPERS, PACKING MATERIAL AND MORE.

FRESH CUTTINGS, TAKEN WHEN ORDER IS RECEIVED. SHIPPED BARE ROOT, NO POT OR SOIL. NO ROOTS

THESE ARE STEM CUTTINGS AND WILL HAVE SOME LEAVES ON THE CUTTING. THE CUTTINGS AVERAGE 4" TO 6" LONG

THERE IS NO REFUND ON THE CUTTINGS. THEY WILL BE FRESHLY HARVESTED AND HEALTHY WHEN SHIPPED.

THIS IS A BEAUTIFUL UPRIGHT PERENNIAL SUCCULENT SHRUB. ONE OF THE GREAT CHARACTERISTICS OF THE PLANT IS ITS ABILITY TO HAVE SEVERAL DIFFERENT COLORS ON ONE PLANT. THE PLANT CAN BE SOLID GREEN, PINK/GREEN VARIEGATED AND EVEN HAVE SOLID WHITE BRANCHES, AND OF COURSE, ALL OF THE ABOVE MIXED.

THE COLORATION IS DUE TO MATURITY AND ENVIRONMENTAL CONDITIONS SUCH AS LIGHT, WATER, FERTILIZATION AND WEATHER CONDITIONS. I CANNOT GUARANTEE ANY CERTAIN COLOR ARRANGEMENT.

THE SHRUB IS TROPICAL/SUB TROPICAL AND PREFERS RICH, WELL DRAINING SOIL. IT DOES REQUIRE SUN, WARMTH AND ADEQUATE MOISTURE.

MY PLANTS ARE GROWN OUTSIDE, BUT I HAVE SEEN FOLKS GROW THEM INDOORS IN COOLER CLIMATES. THE USDA PLANT HARDINESS ZONE IS 9-11 FOR OUTSIDE PLANTINGS.

MATURE PLANTS WILL PRODUCE A SMALL RED BRACT (FLOWER) AND CAN PRODUCE SEED PODS.

ALL PARTS OF THIS PLANT ARE TOXIC AND THE WHITE MILK THAT EMITS FROM THE PLANT WHEN CUT OR BROKEN CAN BE AN IRRITANT TO SENSITIVE FOLKS.

SOME CULTURES USE THIS PLANT FOR MEDICINAL PURPOSES. PLEASE DO YOUR OWN RESEARCH IF YOU ARE INTERESTED IN THIS ASPECT OF THE PLANT.

I GROW THIS PLANT AS AN ORNAMENTAL. SOME OF MY PLANTS HAVE REACHED OVER 6' IN HEIGHT AND 3'-4' IN GIRTH. DEVIL'S BACKBONE IS OFTEN USED AS A BONSAI BASE. THEY ARE VERY EASY TO TRIM INTO ESPALIERS AND OTHER SHAPES - JUST WEAR GLOVES.

THIS IS A BEAUTIFUL PLANT AND A JOY TO WATCH GROW.




Story of this Seed:
THIS IS ANOTHER GREAT FAMILY PASS DOWN PLANTS. MY GRANDMOTHER AND GREAT AUNTS ALL GREW THIS PLANT. CUTTINGS WERE HANDED DOWN THROUGH THE FAMILY LINES.
Growing Tips:
THE CUTTINGS CAN BE ROOTED BY DIRECT SOIL METHOD OR WATER ROOTING. IF WATER ROOTING, REMOVE ALL OF THE LEAVES ON THE BOTTOM OF THE STEM. PLACE THE STEM IN A GLASS OF WATER AND PLACE IN A BRIGHT, BUT NOT DIRECT SUN, LOCATION. THE WATER SHOULD BE SHALLOW, PERHAPS 1/3 OF THE STEM HEIGHT. DO NOT LET ANY OF THE LEAVES HANG IN THE WATER. CHANGE THE WATER EVERY DAY OR SO.
3.50
THE CUTTINGS CAN ALSO BE PUT DIRECTLY INTO A WELL DRAINING SOIL. PLANT THE STEM INTO THE SOIL UNTIL ABOUT 1/3 OF THE STEM IS UNDER THE SOIL. DO NOT ALLOW LEAVES TO BE UNDER THE SOIL. WATER WELL, SIT IN BRIGHT, INDIRECT LIGHT AND DO NOT LET THE PLANT DRY COMPLETELY OUT. THIS IS A SUCCULENT SO PLEASE DO NOT OVER WATER.
Questions 0 Total
Ask a Question About STEM CUTTINGS DEVIL'S BACKBONE, JACOB'S LADDER SUCCULENT SHRUB ORGANIC
Policies
Shipping Policies
We strive to ship seeds the day after we receive the order, excluding weekends. We use USPS. We ship only to the contiguous US, the lower 48 states, due to high postage rates and custom regulations - thank you for understanding. Seedlings/cuttings/plants will be shipped the first of the week, Monday, Tuesday and sometimes on a Wednesday, depending upon the destination. This way the seedlings do not sit in a post office over a weekend. We do not offer heat packs. All of our items are grown in planting zone 9B.
Return & Refund Policy
We have no refund policy. All seeds have been tested for germinaton. All seedlings,cuttingswill be freshly harvested and are in good condition when shipped.
Other Policies
We thank everyone for the opportunity to share our seeds and seedlings.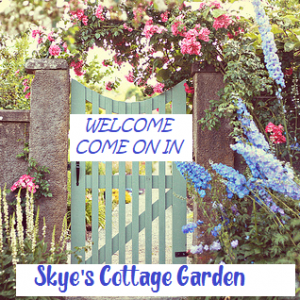 Eliseann Skye Dann
Ocoee, FL, United States (Zone 9b)
Established in 2009
0.50 acres in production
Other Listings from Skye's Cottage Garden: