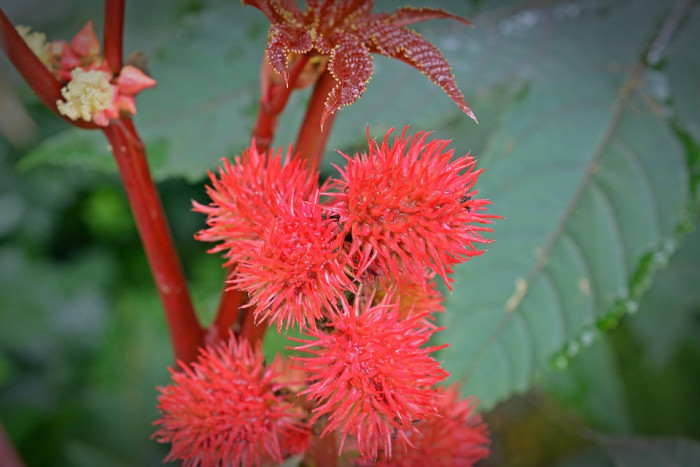 Tags: Open Pollinated
Growing Practices: No Pesticides No Herbicides No Fungicides No Synthetic Fertilizers
Latin Name: Ricinus communis
Description:
BEAUTIFUL ORNAMENTAL PLANT. FAST GROWING - I HAVE HAD PLANTS REACH 10' TO 15' TALL IN A LONG SEASON. THE RED CASTOR HAS LARGE TROPICAL LOOKING LEAVES IN RED AND GREEN THAT MAKE IT A GREAT LANDSCAPE PLANT.

A COMMON NAME FOR THE PLANT IS CHRIST, OR PALMA CHRISTI BECAUSE THE CASTOR OIL HAS A REPUTATION TO HEAL WOULDS AND CURE AILMENTS. THIS IS AN AREA YOU MAY WISH TO RESEARCH.

PERENNIAL, EVERGREEN

THIS WOULD MAKE A GREAT PLANT FOR FOLKS PLANTING FOR SUSTAINABLE PURPOSES. SOME REPORTS SAY IT MIGHT BE A GOOD MOLE REPELLENT - BUT I HAVE NO EXPERIENCE WITH THAT. ALSO, THE SEED IS WHAT CASTOR OIL IS MADE FROM AND AGAIN, I HAVE NO EXPERIENCE WITH THIS, NOR DO I ENDORSE THE PLANTS USE FOR THAT PURPOSE. THE IS YOUR CALL.

NOTE - SEEDS AND PLANT IS TOXIC AND SHOULD NOT BE PLANTED UNTIL THOROUGHLY RESEARCHED ON GROWING THE PLANT IN YOUR AREA AND WHAT, IF ANY, PRECAUTIONS NEED TO BE OBSERVED.

PLANT HARDINESS ZONES ARE 9-11 AND THE PLANT CAN BE GROWN AS AN ANNUAL IN COLDER CLIMATES.

THE PLANT IS NOT GROWN FOR ITS FLOWERS, BUT FOR THE COLORFUL LEAVES AND THE CLUSTER OF BRIGHT RED SEED PODS THAT ARE REALLY UNIQUE LOOKING.

THE PLANT'S FLOWERS DO NOT HAVE PETALS AND THE PLANT IS MONOECIOUS, HAVING BOTH MALE AND FEMALE FLOWERS ON THE SAME PLANT.

I GROW THIS PLANT IN ZONE 9B. IT LOVES FULL SUN OR LIGHT SHADE. IT IS NOT COLD TOLERANT, BUT I HAVE HAD SOME OF MY OLDER PLANTS FREEZE DOWN TO THE GROWN IN A LIGHT FREEZE AND THEN RETURN IN THE SPRING.

THANK YOU AND HAPPY GARDENING.
Story of this Seed:
I HAVE BEEN GROWING THIS PLANT FOR ABOUT 20 YEARS FOR ORNAMENTAL PURPOSES ONLY. I LOVE IT. THE LEAVES ARE BEAUTIFUL AND WHEN THE PLANT BLOOMS IT IS A REAL EYE CATCHER. I ORIGINAL OBTAINED THE SEEDS FROM A RELATIVE THAT HAD BEEN GROWING IT FOR YEARS. SO I GUESS YOU COULD CALL THIS A PASS-ME-DOWN PLANT.
Growing Tips:
GROWING INSTRUCTION WILL BE INCLUDED WITH THE ORDER. BUT THE SEED IS VERY EASY TO GERMINATE AND THE PLANT IS EASY TO GROW.

THANK YOU
Questions 0 Total
Ask a Question About RED CASTOR BEAN PLANT
Policies
Shipping Policies
We strive to ship seeds the day after we receive the order, excluding weekends. We use USPS. We ship only to the contiguous US, the lower 48 states, due to high postage rates and custom regulations - thank you for understanding. Seedlings/cuttings will be shipped the first of the week, Monday, Tuesday and sometimes on a Wednesday, depending upon the destination. This way the seedlings do not sit in a post office over a weekend. We do not offer heat packs. All of our items are grown in planting zone 9B.
Return & Refund Policy
We have no refund policy. All seeds have been tested for germinaton. All seedlings,cuttingswill be freshly harvested and are in good condition when shipped.
Other Policies
We thank everyone for the opportunity to share our seeds and seedlings.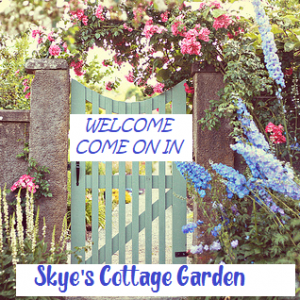 Eliseann Skye Dann
Ocoee, FL, United States (Zone 9b)
Established in 2009
0.50 acres in production
Other Listings from Skye Blue Gardens: