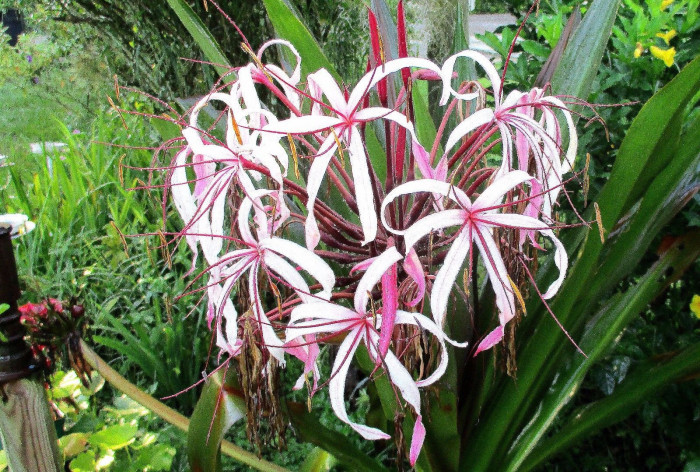 Tags: Heirloom Open Pollinated
Growing Practices: No Pesticides No Herbicides No Fungicides No Synthetic Fertilizers
Latin Name: CRINUM AUGUSTUM
Description:
4 SEEDS FOR THE GIANT CRINUM LILY - QUEEN EMMA

CRINUM AUGUSTUM - AMARYLLIDACEAE FAMILY

THE SEEDS WILL BE VARIOUS SIZES. THEY RANGE FROM THE SIZE OF A GRAPE TO THE SIZE OF A GOLF BALL.

THIS IS NOT THE SMALL, SOFT-LEAVED VERSION OF THE CRINUM. THIS IS A TRUE GIANT IN THIS FAMILY. THE PLANT CAN REACH OVER 6 FEET IN HEIGHT AND GIRTH.

IT PRODUCES DARK GREEN AND PURPLE (OR SOME CALL IT MAGENTA) COLORING IN THE LEAVES.

THE BLOSSOM HEAD EMERGES ON A SPEAR OF DARK PURPLE THAT CAN REACH SEVERAL FEET IN LENGTH. THE BLOSSOM HEAD CONSISTS OF NUMEROUS CLUSTERS OF FLOWERS AND ARE VERY FRAGRANT. THE BLOSSOM HEAD CAN REACH THE SIZE OF 12" AROUND OR MORE.

THIS GIANT CRINUM LILY MAKES A STUNNING CENTERPIECE IN THE YARD. LEAVE PLENTY OF ROOM.

THIS PLANT CAN BE GROWN IN A LARGE CONTAINER. BUT IT MAY BECOME QUITE BIG AND HEAVY.

THE BLOSSOMS ARE FOLLOWED BY ONE OF THE MOST BEAUTIFUL DISPLAYS OF SEEDS I HAVE SEEN.

THIS PLANT LIKES SUN. BUT IT CAN HANG OUT IN PARTIAL SHADE. THE SUN/SHADE RATIO WILL AFFECT THE COLORATION OF THE LEAVES. THE MORE SUN THE DARKER THE LEAVES.

THE LEAVES ARE STIFF AND SWORD-LIKE AND REMAIN UPRIGHT UNLESS DAMAGED OR AGED.

VERY LITTLE MAINTENANCE IS REQUIRED FOR THIS PLANT. AND IT'S PRACTICALLY DISEASE AND PEST FREE

THIS IS A TROPICAL PLANT SO IT WILL FREEZE. IF THE PLANT IS MATURE AND THE FREEZE IS LIGHT, IT MAY COME BACK.

THIS PLANT IS GROWN IN HARDINESS ZONES 8-11 ACCORDING TO THE INTERNET. BUT I AM NOT TO SURE ABOUT ZONE 8 UNLESS THE PLANT HAS SOME WINTER PROTECTION.

I ALLOW THE SEED PODS TO STAY ON THE PLANT UNTIL THEY FALL OFF BY THEMSELVES. THE DARK COLORING IN THE PHOTO OF THE SEEDS IS THE DRIED POD COVERING.

THIS PLANT IS TROPICAL AND LIKES WELL DRAINING SOIL, HUMIDITY, AND MOISTURE.

I WATER FROM THE TOP AND BOTTOM. BUT THIS IS NOT A BOG LILY SO MAKE SURE THE SOIL IS WELL DRAINING.

IF A MATURE PLANT IS HAPPY, IT MAY START PRODUCING BLOOMS IN 2-3 YEARS. THE OLDER THE PLANT GETS THE MORE BLOOMS IT PRODUCES. IN WARMER CLIMATES THE PLANT WILL FLOWER FOR MOST OF THE YEAR WITH THE HEAVIEST BLOOMS APPEARING IN THE WARM, RAINY SEASON.

THERE IS NO REFUND OR REPLACEMENT FOR THESE SEEDS. THEY WERE GROWN ORGANICALLY AND WILL BE DRIED AND HEALTHY WHEN SHIPPED.

NOTE: I AM A COTTAGE GARDENER. THE INFORMATION I PROVIDE IS FROM MY EXPERIENCE AND RESEARCH. PLEASE RESEARCH TO SEE HOW THIS PLANT WILL GROW IN YOUR PLANTING ZONE.

THANK YOU. AND HAPPY GARDENING
Story of this Seed:
MY GREAT AUNT STARTED MY LOVE AFFAIR WITH THIS PLANT AND I HAVE BEEN GROWING THEM FOR ABOUT 25 YEARS. MANY YEARS AGO THIS PLANT AND ITS COUSINS WERE MAINSTAYS IN THE OLDER HOME GARDENS. IT IS NOT A PLANT YOU OFTEN FIND IN THE STORES. THE PLANT ALWAYS GARNERS WORDS OF PRAISE WHEN ANYONE SEES IT IN BLOOM. IT IS ABSOLUTELY STUNNING.
Growing Tips:
THIS IS HOW I GROW THE PLANT FROM SEED. . . . I BURY A SEED ABOUT 2/3 DEEP IN WELL-DRAINING SOIL, PLACE IT IN INDIRECT LIGHT, KEEP MOIST AND WARM, AND THAT IS IT. VERY SIMPLE.

THE SEED MAY GERMINATE IN AS LITTLE AS A WEEK OR AS LONG AS A MONTH. IT JUST DEPENDS UPON WEATHER AND GROWING CONDITIONS.

ONCE THE SEED HAS SPROUTED AND IS SEVERAL INCHES TALL, SCOOP THE SEEDLING OUT AND PLACE IN FINAL PLANTING LOCATION. BE CAREFUL WHEN SCOOPING OUT THE PLANT. IT WILL HAVE A VERY LARGE, WELL-DEVELOPED ROOT SYSTEM. I USE AN OLD LARGE KITCHEN SPOON TO SCOOP IT OUT WITH. THE SEED BALL MAY STILL BE ATTACHED. IF SO, DON'T REMOVE IT. THE SEED BALL WILL WITHER AND FALL OFF ON ITS OWN. IF IT DOES FALL OFF WHILE TRANSPLANTING, THE PLANT WILL STILL BE OK.
Questions 0 Total
Ask a Question About 4 ORGANIC SEEDS - PURPLE QUEEN EMMA GIANT CRINUM LILY,
Policies
Return & Refund Policy
At this time, all sales are final and no refunds will be issued.
If you have received seeds that don't meet your expectations, contact us, and we will work with you to resolve the issue. Thank you for shopping with us!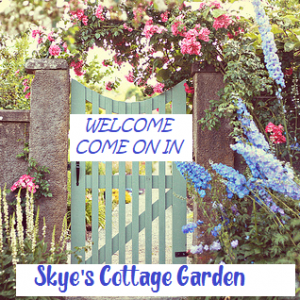 Eliseann Skye Dann
Ocoee, FL, United States (Zone 9b)
Established in 2009
0.50 acres in production
Other Listings from Skye's Cottage Garden: