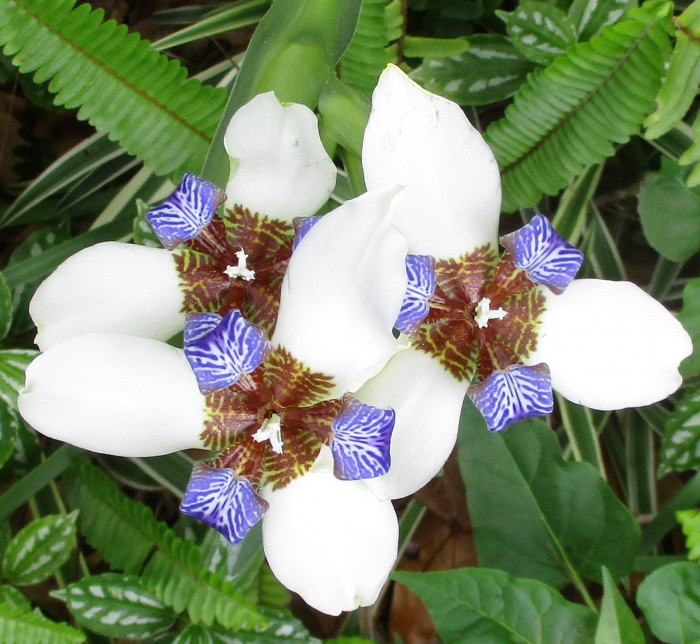 Tags: Heirloom Open Pollinated
Growing Practices: No Pesticides No Herbicides No Fungicides No Synthetic Fertilizers
Latin Name: NEOMARICA GRACILIS
Description:
COMMON NAMES: POOR MAN'S ORCHID, APOSTLE PLANT, FAN IRIS.

NOTE - I DO NOT OFFER HEAT PACKS. IF YOU ARE IN A COLD WEATHER CLIMATE, CHECK YOUR FORECASTED WEATHER PRIOR TO ORDERING.

THERE IS NO REFUND OR REPLACEMENT. THE ITEMS WILL BE HEALTHY AND FRESHLY HARVESTED AT THE TIME OF ORDER.

THE MOST COMMON NAME IS WALKING IRIS BECAUSE AFTER THE PLANT BLOOMS AND DEVELOPS THE NEW PLANTLETS, THE STALK BECOMES HEAVY AND BENDS DOWN TO THE GROUND WHERE THE NEW PLANTLETS GROW ROOTS IN THE SOIL AND BECOME A NEW PLANT.

THIS LISTING IS FOR 2 YOUNG STARTER PLANTS.

THE PLANTLETS RANGE IN LENGTH OF 4" TO 8".

THE PLANTLETS MAY OR MAY NOT HAVE ROOTS YET.

THE PLANTS WILL BE SHIPPED THE FIRST OF THE WEEK TO AVOID SITTING IN THE POST OFFICE OVER THE WEEKEND.

THE PLANTS WILL BE SHIPPED BARE - NO POT OR SOIL - AND WILL BE WRAPPED IN DAMP MEDIUM AND MYLAR TO PROTECT THEM DURING SHIPPING.

ONE OF THE PRETTIEST WALKING IRIS - BLUE AND WHITE WITH A MAHOGANY THROAT.

THIS IRIS LOOKS GREAT IN CLUSTERS OR SCATTERED THROUGH OUT GARDEN BEDS FOR A SPLASH OF SPRING COLOR.

GREAT IN CONTAINER PLANTINGS OR IN THE GROUND.

BEST SUITED FOR PLANTING ZONES 9-11. THE PLANTS CAN BE PLANTED IN CONTAINERS AND OVERWINTERED IN COLDER CLIMATES.

HERE IN PLANTING ZONE 9B, THE PLANTS DO THEIR BEST IN DAPPLED SUN, ESPECIALLY WHEN YOUNG. DIRECT, HOT SUMMER SUN CAN BURN YOUNG PLANTS.

ALTHOUGH THIS IS NOT CONSIDERED A BOG IRIS, THEY DO LIKE FREQUENT WATERING IN THE SPRING AND SUMMER MONTHS.

THANK YOU FOR YOUR INTEREST AND HAPPY GARDENING

PLEASE NOTE - I AM NOT A BUSINESS, JUST A HOME GARDENER. THE ITEMS ON THIS LISTING WERE GROWN IN MY ORGANIC GARDEN. THE INFORMATION I PROVIDE IS FROM MY GROWING EXPERIENCE IN ZONE 9B AND FROM MY RESEARCH. PLEASE RESEARCH TO SEE HOW THIS ITEM WILL GROW FOR YOU IN YOUR PLANTING AREA.
Story of this Seed:
WE STARTED GROWING THIS IRIS ABOUT 20 YEARS AGO. A RELATIVE GAVE US A COUPLE AND THE FIRST YEAR THEY BLOOMED WE JUST FELL IN LOVE. BEAUTIFUL BLUE AND WHITE WITH A STRIKING MAHOGANY THROAT. THIS PLANT MAKES A GREAT ADDITION TO ANY LANDSCAPE.
Growing Tips:
THESE ARE VERY EASY TO GROW AND NEED VERY LITTLE MAINTENANCE. THEY GROW GREAT IN THE GROUND OR IN CONTAINERS. WONDERFUL UNDER STORY PLANT. MINE DO BEST IN DAPPLED SUN.
Questions 0 Total
Ask a Question About ORGANIC BLUE/WHITE WALKING IRIS STARTER PLANTS
Policies
Return & Refund Policy
At this time, all sales are final and no refunds will be issued.
If you have received seeds that don't meet your expectations, contact us, and we will work with you to resolve the issue. Thank you for shopping with us!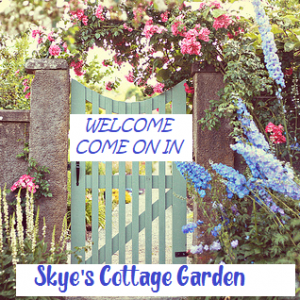 Eliseann Skye Dann
Ocoee, FL, United States (Zone 9b)
Established in 2009
0.50 acres in production
Other Listings from Skye's Cottage Garden: