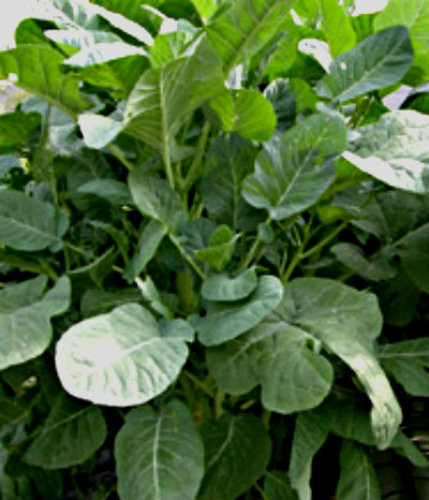 Tags: Open Pollinated
Growing Practices: No Pesticides No Herbicides No Fungicides No Synthetic Fertilizers
Latin Name: Brassica carinata
Days to Maturity: 35-40
Description:
Ethiopian kale is also known as Highland kale and Abyssinian mustard. It is preferably a cool-season crop, but doesn't get bitter in hot weather.
The tender leaves can be eaten raw or cooked, and harvesting can begin as soon as 35-40 days after planting. Nutritionally, they are high in calcium and iron. Harvest individual leaves of young plants, and harvest the entire plant as soon as flower buds start to form.
Ethiopian kale grows best in full sun or part shade.
Questions 0 Total
Ask a Question About Ethiopian Kale
Policies
Shipping Policies
Seeds are hand counted and packaged when your order is received; we do not sell pre-packaged seeds. Most orders are generally shipped within 1 or 2 days of receipt, by First Class mail.
Return & Refund Policy
Most of our seeds are easy to grow varieties that everyone should be successful with. If you are growing a crop for the first time, we encourage you to research the best germination methods for that specific vegetable. Germination tips are included in each of our seed listings. In the event you have problems, contact us and we will work with you to try and resolve the issue. Thank you for shopping with us!
Jim Ford
Apopka, FL, United States (Zone 9B)
Established in 1987
1.00 acres in production
Other Listings from Grower Jim's Plants and Produce LLC: