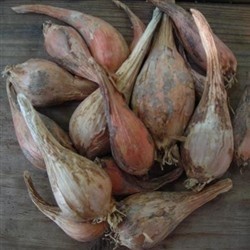 Tags: Heirloom
Growing Practices: No Pesticides No Herbicides No Fungicides No Synthetic Fertilizers
Latin Name: Allium oschaninii
Days to Maturity: 180 days
Description:
Prized by French gourmet chefs, these small, teardrop-shaped (1 x 1½ in.) bulbs have a hard, grey skin and tender, pinkish-white flesh. They have a distinctive, rich, earthy smell, and mild, delicious flavor.

Shallots are widely used not only in French, Indian, and Thai food, but also Central Asian cooking, where they reportedly grow wild. These shallots have a hard skin that can be difficult to peel, but underneath their rough exterior lies a heart of gold; I almost think that cliché was first used to describe the French Grey Shallot (even though the "heart" is white and purple). French Grey Shallots are a true shallot, meaning they are only propagated vegetatively and never form true seed.
Questions 0 Total
Ask a Question About Organically Grown French Grey Shallots
Policies
Shipping Policies
US Seed orders over $49 ship for free! Under $49 is a flat rate of $4. Garlic orders of 1 lb are a flat rate of $6. Over 1 lb is determined by weight and distance.
Return & Refund Policy
Our seeds have an average 90-95% germination rate within the first 2 years, with a 10% chance of success in year 3. If you find that your seeds don't live up to this, please let me know and I will send you a fresh packet. **Please note that bulk seed orders cannot be cancelled or returned unless the seeds are defective** Thank you.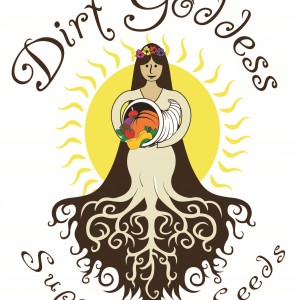 Kristen Brown
Oak Ridge, NJ, United States (Zone 6)
Established in 2012
1.00 acres in production
Other Listings from Dirt Goddess Super Seeds & Garlic Farm: