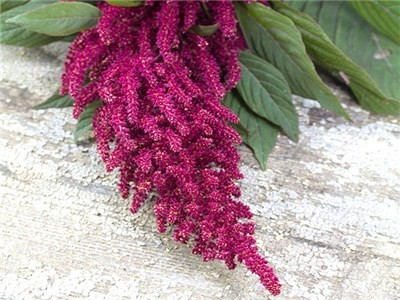 Tags: Heirloom Open Pollinated
Growing Practices: No Pesticides No Herbicides No Fungicides No Synthetic Fertilizers
Latin Name: Amaranthus cruentus
Days to Maturity: 90-120 days
Description:
The plants are a beautiful maroonish-red color with fuchsia-red flower heads making 'Red Garnet' amaranth an attractive addition to your ornamental gardens. Since they reach six feet or more in height, plan you plantings accordingly.

Amaranth is generally sown as a summer annual, but if you live in areas that have cooler, shorter seasons, sow seeds indoors in the early spring and transplant outside after all danger of frost has passed. Choose a location that receives full sun and plant in the garden using a final spacing of fourteen inches. Seeds can take fourteen to twenty-one days to germinate at soil temperatures between 70 to 75ºF.

Harvested at 20 to 30 days, its young leaves are tender and mild and make a nice addition to a mixed greens salad. More mature leaves are used as a tasty cooked green and taste similar to spinach. Its seeds, as a "pseudo-grain," contain many amino acids and nutrients and can be eaten raw, sprouted, toasted, or ground into flour. Even if you don't harvest it, small migrating birds will be attracted to it in their fall travels and thank you for providing a meal.

Like quinoa, amaranth has a very long history as a South American food crop. Known as "kiwicha" in the Andes today, it was one of the Incas dietary staples. The Aztecs, and other peoples of what is now Mexico, used it in the preparation of various ritual food and drinks. One such recipe is made by toasting the seeds (like popping corn) and mixing them with honey or molasses. It is still available there as a treat called "alegria" which translates from Spanish to joy or cheer.
Story of this Seed:
Thank and Happy Growing!
Growing Tips:
Plant in the Spring & Summer,, Seeding Depth: 1/4 - 1/2"
Questions 0 Total
Ask a Question About Red Garnet Amaranth
Policies
Shipping Policies
US Seed orders over $49 ship for free! Under $49 is a flat rate of $4. Garlic orders of 1 lb are a flat rate of $6. Over 1 lb is determined by weight and distance.
Return & Refund Policy
Our seeds have an average 90-95% germination rate within the first 2 years, with a 10% chance of success in year 3. If you find that your seeds don't live up to this, please let me know and I will send you a fresh packet. **Please note that bulk seed orders cannot be cancelled or returned unless the seeds are defective** Thank you.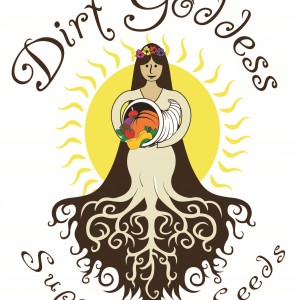 Kristen Brown
Oak Ridge, NJ, United States (Zone 6)
Established in 2012
1.00 acres in production
Other Listings from Dirt Goddess Super Seeds & Garlic Farm: