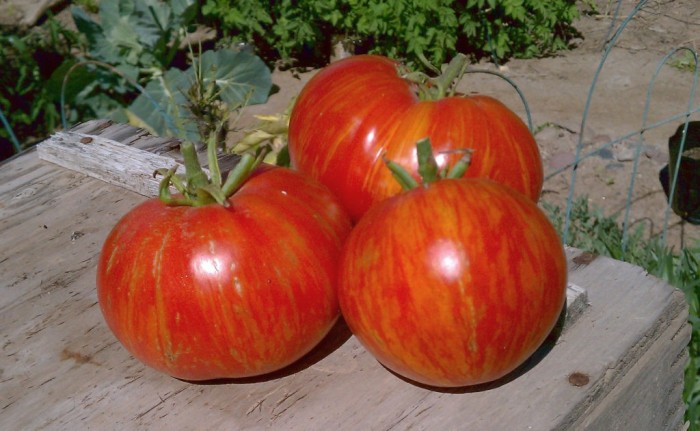 Tags: Heirloom Open Pollinated
Growing Practices: No Pesticides No Herbicides No Fungicides No Synthetic Fertilizers
Latin Name: Solanum lycopersicum
Days to Maturity: 85
Description:
Medium-sized beefsteak slicer, deep red with golden striping. Sweet with warm, savory taste, great on burgers. Tolerant of drought and temperature extremes.

These plants have already survived 120 degree days in June and were still setting fruit above 110 degrees through August. Now it's January as this is written, these plants have already survived several freezes this winter, and the tomatoes just keep on coming. Workhorse doesn't describe it, and it's efficient on water, as well. It obviously should be fed well, but it's a tough plant.

The selection criteria for Sonoran Flair are:

Heat resistance:
We are looking to sell a tomato seed that will set fruit well above 100 degrees. These plants have survived 120-degree summers in Southern Arizona's Sonoran Desert, and set fruit in spite of spending weeks at or above 110-115 degrees.

Drought tolerance:
A scarcity of water goes with the territory when the temperatures are well above 100 degrees Fahrenheit during the late afternoon.

Size:
This doesn't mean we select for the biggest monsters we can produce. We seek to select a variety that serves as the RIGHT SIZE rather than the largest size. We're looking for the perfect burger and sandwich slicers here.

As always, even if all the above criteria are met, taste is the deal-breaker. These tomatoes must taste GREAT or they just don't make the team, simple as that.

Unusual colors, cherry sizes or noteworthy mutations will, of course, be preserved for exploration as fixed phenotypes, going into the future.

Minimum 50 Seeds.

Germination Rate 94% Tested July 2018
Story of this Seed:
Our own Arizona adaptation, selected from the Solar Flair of Wild Boar Farms. Little can be done to improve upon the work already covered by Grower Brad Gates. We will see what nuances we can find.
Growing Tips:
Planting:

Sow seeds indoors into sterile seedling mix 6-8 weeks before your last spring frost. Plant, water lightly, and cover with plastic or a dome to keep the seeds from drying out. When the first set of true leaves has emerged, up-pot into 3-4 inch pots and place in an area with full light and cooler temperatures (60-70°F). This will help prevent legginess.

Water carefully, allowing the soil to dry on the surface between watering, but don't let the plants wilt. Fertilize with fish emulsion or equivalent nutrient-rich feed such as manure tea or compost tea, every 10-14 days.

How to select:

Blue Gold Berries are, as the name suggests, a gold tomato variety, meaning that you must wait until the yellow color fully darkens to a gold color, rather than a pale green, white or bright yellow. When the tomato is ripe, the purple blush will fade from dark blue/purple as a green fruit, to a more profoundly grape-like purple while ripening yellow, and finally a brownish or maroon-type purple as the gold coloring comes into full effect.

Choose young, firm tomatoes with just a hint of "give" on the blossom end. Birds can be a problem, and this variety can be harvested a couple of days early and left to ripen in a warm place indoors, without damaging its quality.

How to prepare:

These are good right off the vine, used as snacks or to accompany sandwiches, soups and pasta.
Questions 0 Total
Ask a Question About Tomato: Sonoran Flair
Policies
Shipping Policies
Shipping within 10 days USPS Standard Post
Return & Refund Policy
30 Days Money Back
Other Policies
Please leave a review; feel free to ask questions.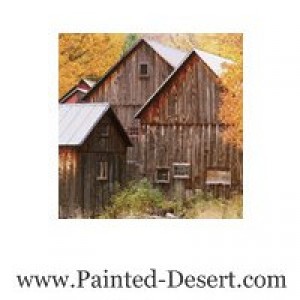 Michael Bailey
Sanders, AZ, United States (Zone 5)
Established in 1987
135.00 acres in production
Other Listings from Painted Desert Seed Company: