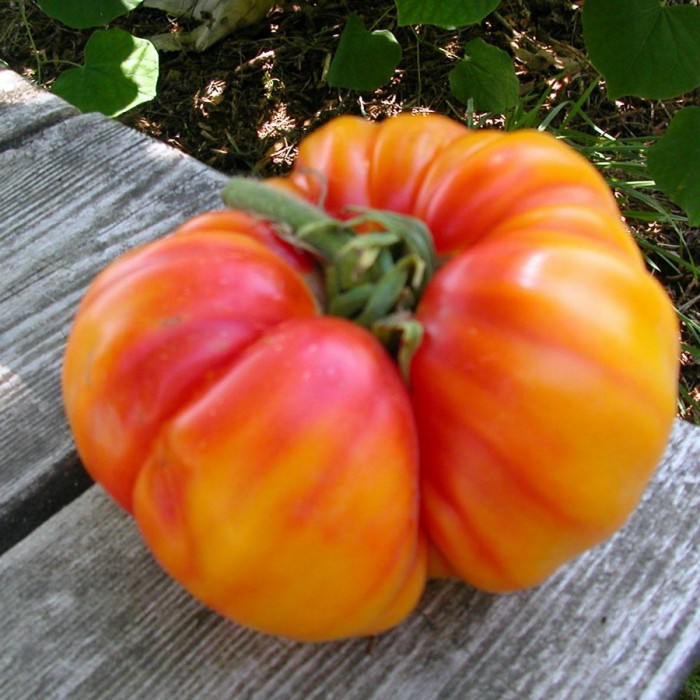 Tags: Heirloom Open Pollinated
Growing Practices: No Pesticides No Herbicides No Fungicides No Synthetic Fertilizers
Latin Name: Solanum lycopersicum
Days to Maturity: 85-90
Description:
(Solanum lycopersicum)

These big, beefy bi-color tomatoes are famous for warm flavor, for excellent taste, and as the perfect burger slicer.

Undeniably delicious, these large 1-pound fruit have gorgeous golden-orange, red streaked flesh and skin. Indeterminate plants produce sweet, juicy beefsteak type tomatoes that are low in acid and exceptionally tasty in sandwiches and salads.

Germination Rate 96% - Tested June 2020

85 days, Indeterminate.

Minimum 35 Seeds.
Story of this Seed:
Out of West Virginia, believed to be descended from the Arkansas Traveler. Both are excellent hot climate tomatoes.

How to prepare:

These are grown for hamburger and sandwich slices, dicing for salad, tacos and the like, and for an occasional decadent,
Growing Tips:
Planting:

Sow seeds indoors into sterile seedling mix 6-8 weeks before your last spring frost. Plant, water lightly, and cover with plastic or a dome to keep the seeds from drying out. When the first set of true leaves has emerged, up-pot into 3-4 inch pots and place in an area with full light and cooler temperatures (60-70°F). This will help prevent legginess.

Water carefully, allowing the soil to dry on the surface between watering, but don't let the plants wilt. Fertilize with fish emulsion or equivalent nutrient-rich feed such as manure tea or compost tea, every 10-14 days.

How to select:

Blue Gold Berries are, as the name suggests, a gold tomato variety, meaning that you must wait until the yellow color fully darkens to a gold color, rather than a pale green, white or bright yellow. When the tomato is ripe, the purple blush will fade from dark blue/purple as a green fruit, to a more profoundly grape-like purple while ripening yellow, and finally a brownish or maroon-type purple as the gold coloring comes into full effect.

Choose young, firm tomatoes with just a hint of "give" on the blossom end. Birds can be a problem, and this variety can be harvested a couple of days early and left to ripen in a warm place indoors, without damaging its quality.

How to prepare:

These are good right off the vine, used as snacks or to accompany sandwiches, soups and pasta.
Questions 0 Total
Ask a Question About Tomato: Hillbilly Beefsteak
Policies
Shipping Policies
Shipping within 10 days USPS Standard Post
Return & Refund Policy
30 Days Money Back
Other Policies
Please leave a review; feel free to ask questions.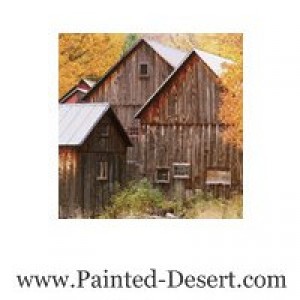 Michael Bailey
Sanders, AZ, United States (Zone 5)
Established in 1987
135.00 acres in production
Other Listings from Painted Desert Seed Company: