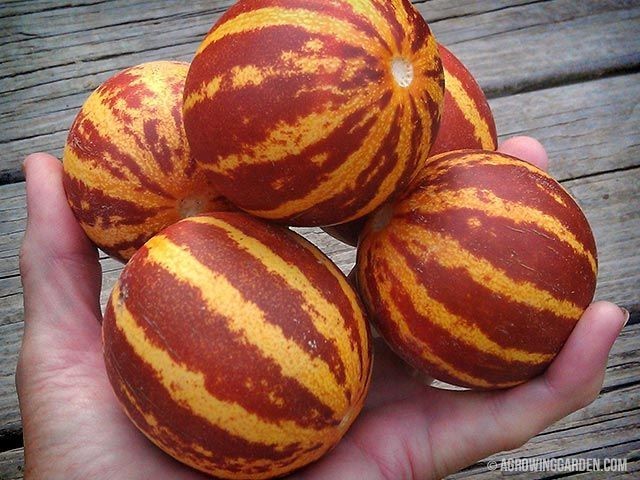 Tags: Heirloom Open Pollinated
Growing Practices: No Pesticides No Herbicides No Fungicides No Synthetic Fertilizers
Latin Name: Cucumis melo
Days to Maturity: 75
Description:
(Cucumis melo)

These little Russian pocket melons, from the former Soviet Union in the Baltic region, are only the size of baseballs!

But they do pack quite a punch, both in taste and in visuals. Beautiful red-brown melons with gold stripes and rich white flesh. Weight about 1/4 pound.

These highly aromatic little fruit have a mild, tropical flavor, very sweet and slightly tart, with a hint of banana and coconut, to give a pina colada sensation. Great for school and work lunches, picnics, backpacking and sports practice.

Vigorous vines are highly productive from late spring until frost.

Germination: 94 percent - June 2020

Minimum 40 Seeds
Story of this Seed:
Selected under the Soviets in Chechnya, Georgia and other Baltic states, the stock melon is believed to have originated in Azerbaijan and spread westward along traditional trade routes.
Growing Tips:
Refrigerate seeds for a few days, then soak overnight before planting. Rich, deep and black soil is best, but these plants are not particular or finicky. Mulch them with compost, fertilizer or manure tea every two weeks to optimize blooming and fruiting. 2 TBSP Epsom Salts in one gallon of water once fruit changes color, to improve sweetness.

These melons were outstanding for creating ground shade and helping to retain water on our Phoenix fields. Temps snapped right to 110 during June in Phoenix during 2016, and these melons loved it, growing crazy fast, as much as 20 feet over the next three weeks.

We got worried when we had a three-day spell at 120 degrees, but these melons put on their biggest growth spurt during that week above 115. They are sweet enough, but dosing Epsom salts as the melons begin to reach maturity really increased the sweetness.

Water them well at first. Stop watering them after the melons start to gain size, or they will crack.

Given their performance through incredible heat conditions, and their ability to weather a total lack of water in these conditions for nearly three weeks while the melons ripened, we would recommend these to anyone in a poor soil desert environment.
Questions 2 Total
Ask a Question About Melon: Rich Sweetness 132
Answer this question

I, would like to be informed, as well. Please and thank you.
Patrick Legate
psysolutions2004@yahoo.com

Answers 1

Hi, Patrick. I have edited the description to inform that we lost a greenhouse with this melon, some amaranth and a couple squash varieties in a late March snowstorm. We'll be planting in mid May with expected harvests in summer 2018. Thank you for your interest!

Answer this question

When they are available for 2018 would you let me know, thank you. Also, could they be grown in NE Pennsylvania? walt3075@aol.com; Walter Buckman

Answers 1

Hello, Walter. I am sorry it took so long to answer you. We are on solar power and we've had some real weather the last couple of weeks, and flu season is never a help. We should have seeds available for these little melons by March, and we will certainly let you know as soon as we are harvesting them. Pennsylvania shouldn't be a problem for growing these melons, as they originated in Chechnya and don't need a very long season to produce. We have had results in 80 days or so from planting, provided they receive full sun and temperatures above 75. Lots of water until the melons begin to grow, then minimum water just to keep the yellow out of the foliage. Epsom salts in the weeks before harvesting will enhance sweetness.
Policies
Shipping Policies
Shipping within 10 days USPS Standard Post
Return & Refund Policy
30 Days Money Back
Other Policies
Please leave a review; feel free to ask questions.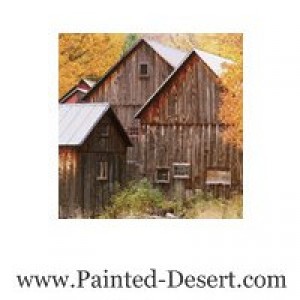 Michael Bailey
Sanders, AZ, United States (Zone 5)
Established in 1987
135.00 acres in production
Other Listings from Painted Desert Seed Company: