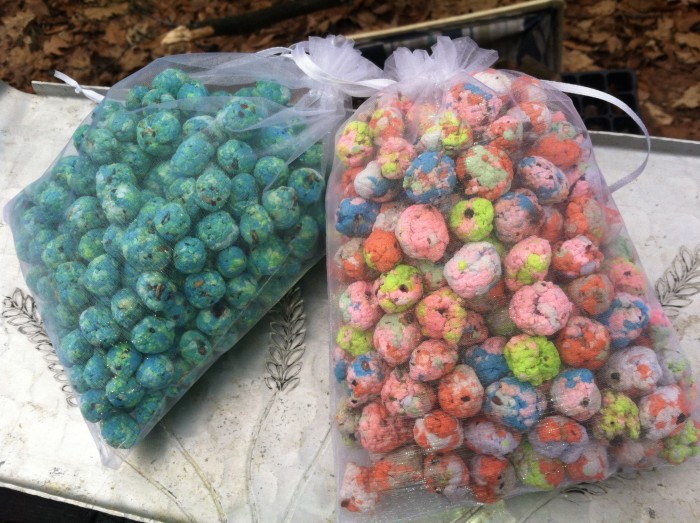 Tags: Open Pollinated
Growing Practices: No Pesticides No Herbicides No Fungicides No Synthetic Fertilizers
Latin Name: Mixed
Description:
~*Grow Flowers Everywhere with Dirt Goddess Super Seeds "Seed Bombs"! *~

*~Beautiful any space, even hard to reach areas, with Native Wildflowers!~*

Simply toss the seed bomb into a neglected area on a Rainy Day and the recycled paper dissolves to serve as mulch for the seeds!

Contains a blend of 100% Native Wildflower Seeds designed to have early, mid and late season blooms, mycorrhizae, beneficial bacteria & Recycled Paper in a large Organza bag.

Seed bombs will be sent in mixed colors unless you have a large order or we have discussed your color choices. For large custom orders you can choose single solid colors, your wedding colors, school colors, holiday colors, blends of two colors or more...

Wholesale pricing is available for large or custom orders such as for favors.

~~~~Please allow up to 2 weeks for custom or large orders. Rush orders are available~~~~

Midwest Region: Illinois, Indiana, Iowa, Kansas, Kentucky, Michigan, Minnesota, Missouri, Nebraska, Ohio and Wisconsin
Questions 1 Total
Ask a Question About Seed Bombs w/ Midwest Native Wildflowers
Answer this question

What type of flowers are the seeds for?

Answers 1

What's in the Mix: (Contains 26 Wildflowers)
Botanical Name Common Name Life Cycle Approx. Height & Color
Aster tanacetifolius Prairie Aster Annual 2-3 ft. Purple
Centaurea cyanus Blue Cornflower Annual 2 ft. Blue
Cheiranthus allionii Siberian Wallflower Biennial 2 ft. Orange
Chrysanthemum maximum Shasta Daisy Perennial 3 ft. White
Coreopsis lanceolata Lance-leaf Coreopsis Perennial 3 ft. Yellow
Coreopsis tinctoria Plains Coreopsis Annual 2-3 ft. Yellow/Red
Cosmos sulphureus Sulphur Cosmos Annual 3 ft. Orange
Cosmos bipinatus Wild Cosmos Annual 3-6 ft. Pink/White/Mauve
Dianthus barbatus Sweet William Biennial 2 ft. Multi Pinks
Echinacea purpurea Purple Coneflower Perennial 3 ft. Purple
Eschscholzia californica Orange Poppy Tender Perennial 2-3 ft. Orange
Gaillardia pulchella Indian Blanket Annual 2-3 ft. Yellow/Red
Gaillardia aristata Blanket Flower Perennial 3 ft. Yellow/Red
Gypsophila elegans Baby's Breath Annual 2 ft. White
Helianthus annuus Wild Sunflower Annual 3 ft. Yellow
Iberis umbellata Candytuft Biennial 1-2 ft. Pink
Linum grandiflorum rubrum Scarlet Flax Annual 1-2 ft. Red
Linum perenne lewisii Blue Flax Perennial 2 ft. Blue
Lupinus perennis Perennial Lupine Perennial 3-4 ft. Purple
Nemophila menziesii Baby Blue Eyes Annual up to 1 ft. Blue
Oenothera lamarckiana Evening Primrose Annual 3-4 ft. Yellow
Papaver rhoeas Multi Poppy Annual 2-3 ft. Red
Ratibida columnaris Mexican Hat Perennial 2-3 ft. Red/Yellow
Ratibida columnaris Yellow Prairie Coneflower Perennial 3-4 ft. Yellow
Rudbeckia gloriosa Gloriosa Daisy Perennial 2-3 ft. Red/Yellow
Rudbeckia hirta Black-eyed Susan Biennial 2-3 ft. Yellow

Policies
Shipping Policies
US Seed orders over $49 ship for free! Under $49 is a flat rate of $4. Garlic orders of 1 lb are a flat rate of $6. Over 1 lb is determined by weight and distance.
Return & Refund Policy
Our seeds have an average 90-95% germination rate within the first 2 years, with a 10% chance of success in year 3. If you find that your seeds don't live up to this, please let me know and I will send you a fresh packet. **Please note that bulk seed orders cannot be cancelled or returned unless the seeds are defective** Thank you.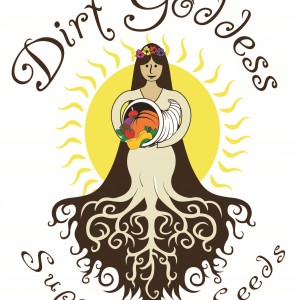 Kristen Brown
Oak Ridge, NJ, United States (Zone 6)
Established in 2012
1.00 acres in production
Other Listings from Dirt Goddess Super Seeds & Garlic Farm: