Tags: Open Pollinated
Growing Practices: No Pesticides No Herbicides No Fungicides No Synthetic Fertilizers
Latin Name: Echinacea purpurpea
Description:
Purple Coneflower (Echinacea purpurpea) Seeds are easy to grow and produce stunning pink flowers. It is a perennial flower and the flowers look like a large, pink black-eyed susan. The Purple Coneflower is used as a herbal medicine. It is used for cold and flu treatments and to support the immune system. Previously, the native Americans used it to treat snake bites. The Purple Coneflower (Echinacea purpurpea) seeds are grown in the full sun, which is at least 6 hours of sunlight per day, or half shade, which is at least 4 hours of sunlight per day.

They are at least 24-36 inches tall and 1 pound can grow and cover up to 5,000 square feet. The Purple Coneflower grow best in dry, average, and well-drained soil. They tend to tolerate sandy soil, loamy soil, dry soil and clay soil. They are native to North America and are used to attract hummingbirds and birds, and are used most commonly as cut flowers and showy flowers. The ideal growing regions are northeast, southeast, Midwest, southwest and pacific north west. The seeds can be stored in a cold, dry place.

~~~~~~~~~~~~~~~~~~~~~~~~~~~~~~~~~~~~~~~~~~~~~~~~~~

Dirt Goddess Super Seeds are fortified with Mycorrhizae, Beneficial Bacteria & Trichoderma for Superior Growth & Vigor, Organically!

Mycorrhizae forms a symbiotic relationship with the roots of 95% of the worlds plants and it's believed that plants were able to evolve onto land due to this symbiosis.

Colonization by mycorrhizae can provide multiple functions: increased nutrient uptake, drought tolerance, resistance to pathogens, increased vigor and yield.

It has been shown that the presence of Mycorrhizae can increase a plant's absorption of certain nutrients which it cannot uptake on its own.

In most gardens and agricultural settings the mycorrhizae is destroyed by tilling, the overuse of chemical fertilizers, and fungicides. The mycorrhizae must be re-added to the soil in order to benefit the plant.

Mycorrhizae is naturally 100% organic.

~~~~~~~~~~~~~~~~~~~~~~~~~~~~~~~~~~~~~~~~~~~~~~~~~~
FREE SHIPPING with purchase of $49 or more!

*Please take note about bulk seed orders: Seed availability can be very volatile due to crop failures, weather conditions and other factors. Therefore, not every seed is constantly available in bulk sizes. Most bulk orders are shipped within 3-7 business days while some seeds can take up to 14 days to ship. If you are in a rush to get your bulk seeds you may want to contact us to verify availability. Individual seed packets are always available.


Story of this Seed:
Thanks and Happy Growing!
Growing Tips:
Check for your last frost date and plant after this has passed.

Choose a spot on your property that gets 6 or more hours of direct sun a day (unless you are planting our Partial Shade Mixture).

Prepare your soil by clearing the area of all existing growth. Simply dig up everything that is growing, turn the soil and rake the area flat. If this is an area that has never before been gardened, you may need to till the area up to remove growth.

Plant:

Mix the seeds with sand for better visibility and scatter the seeds directly on top of the soil. If you are sowing a larger area, we recommend using a seed spreader; if not, you can sow by hand.

We recommend lightly compressing the seeds into the soil, making sure not to bury them. You can either walk on them, use a board or if you are sowing a larger area, rent a seed roller.

Grow:

Water so that the soil is moist, not soaking wet, until the seedlings are about 4-6" tall. After that, the seedlings will survive on natural rains. If you are experiencing very dry weather, we recommend watering occasionally.

Amount Recommended Coverage

1/4 Pound Package Up to 500 Sq. Ft
1 Pound Sack Up to 2,000 Sq. Ft
5 Pound Sack Up to 10,000 Sq. Ft
10 Pound Sack Up to 20,000 Sq. Ft
Questions 0 Total
Ask a Question About Purple Coneflower Seeds **Mycorrhizae Fortified/Bulk Available**
Policies
Shipping Policies
US Seed orders over $49 ship for free! Under $49 is a flat rate of $4. Garlic orders of 1 lb are a flat rate of $6. Over 1 lb is determined by weight and distance.
Return & Refund Policy
Our seeds have an average 90-95% germination rate within the first 2 years, with a 10% chance of success in year 3. If you find that your seeds don't live up to this, please let me know and I will send you a fresh packet. **Please note that bulk seed orders cannot be cancelled or returned unless the seeds are defective** Thank you.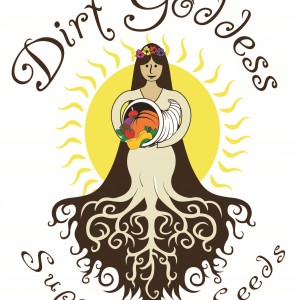 Kristen Brown
Oak Ridge, NJ, United States (Zone 6)
Established in 2012
1.00 acres in production
Other Listings from Dirt Goddess Super Seeds & Garlic Farm: