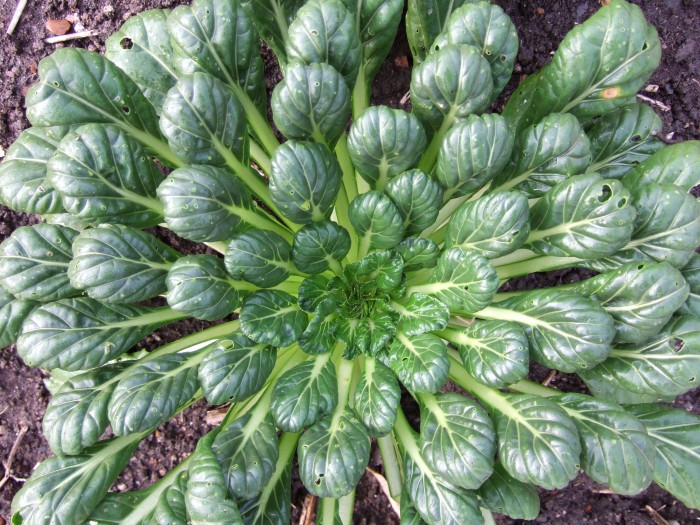 Tags: Heirloom Open Pollinated
Growing Practices: No Pesticides No Herbicides No Fungicides No Synthetic Fertilizers
Latin Name: Brassica rapa
Days to Maturity: 42
Description:
Small and sturdy, Tatsoi is identified by its emerald spoon-shaped leaves. Its stalks are sweet, almost creamy and great in stir fries. The texture is similar to Mache, but much heartier.

Although Tatsoi is in the Mustard family it does not taste that way. In fact eaten when the leaves are small it has no bitter taste at all to me. I'm a picky greens eater and I love Tatsoi mixed in salads. I know I'm getting some real nutritional value and it tastes good.

Tatsoi leaves are generally eaten raw, but may be added to soups at the end of the cooking period. When Tatsoi is mixed with other greens it enhances the flavor and nutritional value.

If you live in a hot area, make sure to plant it in early spring or late fall. I also like to treat it like lettuce, meaning that I plant a little every few weeks so that I will have a constant supply.

For baby greens, sow thickly and scissor-harvest at 3" to 4" tall.

~~~~~~~~~~~~~~~~~~~~~~~~~~~~~~~~~~~~~~~~~~~~~~~~~~~~~~~~
Dirt Goddess Super Seeds are fortified with Mycorrhizae, Beneficial Bacteria & Trichoderma for Superior Growth & Vigor. Organically!

Mycorrhizae forms a symbiotic relationship with the roots of 95% of the worlds plants and it's believed that plants were able to evolve onto land due to this symbiosis.

Colonization by mycorrhizae can provide multiple functions: increased nutrient uptake, drought tolerance, resistance to pathogens, increased vigor and yield.

It has been shown that the presence of Mycorrhizae can increase a plant's absorption of certain nutrients which it cannot uptake on its own.

In most gardens and agricultural settings, the mycorrhizae is destroyed by tilling, the overuse of chemical fertilizers, and fungicides. The mycorrhizae must be re-added to the soil in order to benefit the plant.

Mycorrhizae is naturally 100% organic.

Take a look at www.DirtGoddessSeeds for videos and lots more info on this amazing fungus!
~~~~~~~~~~~~~~~~~~~~~~~~~~~~~~~~~~~~~~~~~~~~~~~~~~~~~~~
FREE SHIPPING with purchase of $49 or more!

*Please take note about bulk seed orders: Seed availability can be very volatile due to crop failures, weather conditions and other factors. Therefore, not every seed is constantly available in bulk sizes. Most bulk orders are shipped within 3-7 business days while some seeds can take up to 14 days to ship. If you are in a rush to get your bulk seeds you may want to contact us to verify availability. Individual seed packets are always available.


Story of this Seed:
Thanks and Happy Growing!
Growing Tips:
Sun Exposure

Tatsoi does best in partial sun, about 3 - 5 hours each day but can handle full sun, if it is kept well watered.

Mature Size

Full size heads will grow to about 8 - 10 inches. Spread depends on whether the leaves are flattened or upright, but figure about 12 inches per plant.

Days to Harvest

You can start harvest leaves when they are about 4 inches. Baby tatsoi matures in 20 - 25 days. Full size tatsoi takes 40 - 50 days.

Slice the plants off about an inch above the ground and they should re-sprout for you. The plants will be smaller, but still delicious.

Uses

Tatsoi has more of a tangy mustard flavor than bok choy. It is often found in salad mixes and can be cooked in any dish you would use bok choy - stir-fries, soups, and side dishes. The mild and tender baby leaves taste very similar to spinach and would be a good substitute when it is too warm to grow spinach plants.

Growing Tips

Soil: Provide a well-draining soil with a lot of compost or other organic matter mixed in. Tatsoi grows in soil with a pH from 6.0 - 7.5, with 6.5 - 7.0 the ideal range.

Planting: You can direct sow or start seed indoors about 4 - 5 weeks before your last frost date. Begin sowing outdoors after your last frost date. Don't rush it; young plants will bolt if they experience too much cold weather. Seeds are quick to germinate, usually within 4 - 8 days.

Plant seed 1/4 - 1/2 inch deep, spaced 1 inch apart. Thin and eat the plants when they are a couple of inches tall. If you are growing full-sized plants, thin to a 6 - 8 inch spacing.

Fall grown tatsoi usually does better than seed sown in the spring. Besides the greater chance off the seedlings experiencing cold temperatures or frost, in the spring, which will cause them to bolt, there are also less insect pests in the fall.

Tatsoi has the odd habit of growing flat in cold weather, but more upright in heat.

Maintenance: Maintenance and care:

As with most leafy vegetables, tatsoi needs regular watering or it will bolt to seed. If your soil is rich, you should not need to feed the plants. Otherwise use a fertilizer high in nitrogen.

You can succession plant every couple of weeks, for a longer harvest period. Stop planting when the weather turns hot, then start new plants for the fall in late summer.

Plants in the brassica family do not cross pollinate with plants outside their species. Seed can be saved for 4 years.

Pests & Problems

Tatsoi is generally disease free, but insects love its tender leaves. Cabbage worms, cabbage loopers and flea beetles can riddle the leaves in spring, unless the plants are protected with row covers. The ground hugging leaves are extremely attractive to slugs. white flies and aphids are less of a problem.
Questions 0 Total
Ask a Question About Tatsoi Mustard ~Mycorrhizae Fortified/Bulk Available~
Policies
Shipping Policies
US Seed orders over $49 ship for free! Under $49 is a flat rate of $4. Garlic orders of 1 lb are a flat rate of $6. Over 1 lb is determined by weight and distance.
Return & Refund Policy
Our seeds have an average 90-95% germination rate within the first 2 years, with a 10% chance of success in year 3. If you find that your seeds don't live up to this, please let me know and I will send you a fresh packet. **Please note that bulk seed orders cannot be cancelled or returned unless the seeds are defective** Thank you.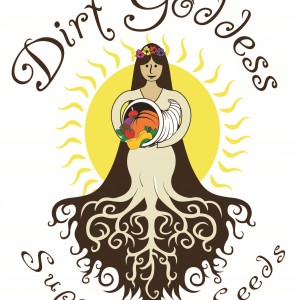 Kristen Brown
Oak Ridge, NJ, United States (Zone 6)
Established in 2012
1.00 acres in production
Other Listings from Dirt Goddess Super Seeds & Garlic Farm: