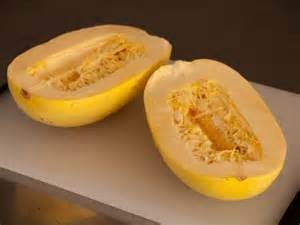 Tags: Heirloom Open Pollinated
Growing Practices: No Pesticides No Herbicides No Fungicides No Synthetic Fertilizers
Latin Name: Curcubita pepo
Days to Maturity: 83-100
Description:
Yellow, spaghetti-like flesh.
Skin is ivory changing to pale yellow at maturity. Bake like squash or boil and fork out the flesh, topping the "spaghetti" with your favorite sauce. 3-5 lb. oblong fruit. Though it certainly doesn't taste like spaghetti, it does look kinda like it when cooked – thus its familiar name. This variety is both nutritious and delicious and can be enjoyed steamed, baked, or boiled.

Can keep into the winter and beyond, providing dense, home-grown nutrition when it's most scarce. In the diverse family of squash are true nutritional powerhouses, encompassing a wide array of forms, flavors, colorations, and culinary applications. Squash are rich in the carotenoids necessary for vitamin A production and boast a wide complement of amino acids. While starchy, most of the carbohydrates in the fruit come from special polysaccharides, pectins, which have exhibited strong antioxidant, anti-inflammatory, and anti-diabetic, insulin-regulating properties.

******************************************************************
Dirt Goddess Super Seeds are fortified with Mycorrhizae, Beneficial Bacteria & Trichoderma for Superior Growth & Vigor. Organically!

Mycorrhizae forms a symbiotic relationship with the roots of 95% of the worlds plants and it's believed that plants were able to evolve onto land due to this symbiosis.

Colonization by mycorrhizae can provide multiple functions: increased nutrient uptake, drought tolerance, resistance to pathogens, increased vigor and yield.

It has been shown that the presence of Mycorrhizae can increase a plant's absorption of certain nutrients which it cannot uptake on its own.

In most gardens and agricultural settings, the mycorrhizae is destroyed by tilling, the overuse of chemical fertilizers, and fungicides. The mycorrhizae must be re-added to the soil in order to benefit the plant.

Mycorrhizae is naturally 100% organic.

Take a look at www.DirtGoddessSeeds for videos and lots more info on this amazing fungus!

******************************************************************
*Please take note: Seed availability can be very volatile due to crop failures, weather conditions and other factors. Therefore, not every seed is constantly available in bulk sizes. Most bulk orders are shipped within 3-7 business days while some seeds can take up to 14 days to ship. You may want to contact us to verify availability of bulk seed availability.

Story of this Seed:
Thanks and Happy Growing!
Growing Tips:
CULTURE: Squash and pumpkins prefer good fertile soil and plenty of sunshine. Start indoors or in a greenhouse 3-4 weeks prior to your last frost. Sow in a 3 inch Peat or Cow Pot for direct transplanting. For best results transplant prior to the second set of true leaves. Plant the entire Peat or Cow Pot with no part of the pot exposed to the air. Work 1/2 cup of our complete fertilizer into the soil around each plant. For direct sowing, plant after your last frost and when the soil has warmed to at least 60°F. Sow with 3-4 feet between bush varieties, and 4-5 feet between vining varieties. Distance between rows: 6-10 feet. Squash need just-barely-damp soil to germinate. Too much moisture causes the seed to rot. All squash are monoecious (bearing separate male and female flowers on the same plant), and require bee and insect activity for successful pollination. Poor fruit set is often the result of poor pollination.

INSECTS/PESTS: The major insect pests are the spotted and striped cucumber beetles, vine borers and squash bugs. Use row covers and/or apply Pyrethrin to reduce and control damage. Butternut varieties have a solid stem and are resistant to vine borer damage.

DISEASES: Squash are susceptible to a number of fungal, bacterial, and viral diseases that vary between regions. Your local county extension agent can help you pinpoint your particular problem.

HARVEST: Pick baby summer squash as well as the more mature ones. In general, summer squash are most tender and flavorful when very young. Winter squash are best left on the vine until fully mature. It should require quite a bit of pressure before your fingernail pierces through the rind into the flesh. For the best sugar content, cut the stem an inch or so from the body after the first light frost, and if the weather is dry, let them cure in the field. If temperatures drop below 25°F, bring your harvest inside and store in a cool dry location.



Questions 0 Total
Ask a Question About Organic Spaghetti Squash Seeds **Mycorrhizae Fortified/Bulk Available**
Policies
Shipping Policies
US Seed orders over $49 ship for free! Under $49 is a flat rate of $4. Garlic orders of 1 lb are a flat rate of $6. Over 1 lb is determined by weight and distance.
Return & Refund Policy
Our seeds have an average 90-95% germination rate within the first 2 years, with a 10% chance of success in year 3. If you find that your seeds don't live up to this, please let me know and I will send you a fresh packet. **Please note that bulk seed orders cannot be cancelled or returned unless the seeds are defective** Thank you.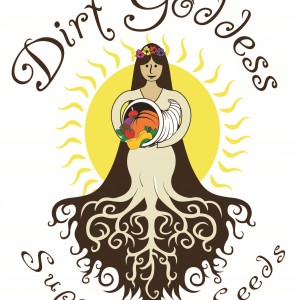 Kristen Brown
Oak Ridge, NJ, United States (Zone 6)
Established in 2012
1.00 acres in production
Other Listings from Dirt Goddess Super Seeds & Garlic Farm: