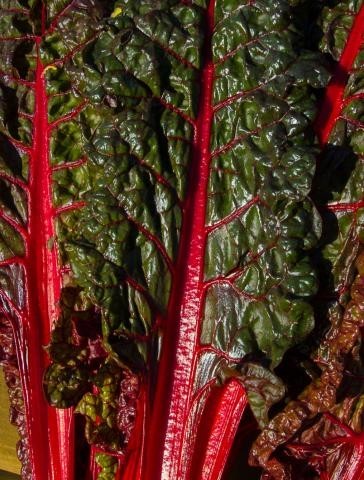 Tags: Heirloom Open Pollinated
Growing Practices: No Pesticides No Herbicides No Fungicides No Synthetic Fertilizers
Latin Name: Beta vulgaris
Days to Maturity: 30 days baby leaf, 60 full size
Description:
An outstanding chard that has Corvette red stems that extend into bright green leaves forming one of natures amazing works of art. Rich crimson red stems and bright green savoyed leaves make this the standard for red chards. Especially nice for a micro-green or baby leaf because stem and leaf veins color early. Our improved strain has been selected for highly savoyed leaves, color contrast, and a minimal amount of chocolate leaves later in the season.

This tasty, low in oxalic acid heirloom chard will add color to any dish. Grows 18-24" tall.

Yields all summer and into the fall. Use fresh or frozen. Ruby red chard is VERY ornamental and a great seller at farmers markets.
~~~~~~~~~~~~~~~~~~~~~~~~~~~~~~~~~~~~~~~~~~~~~~~~~~~~~~

Dirt Goddess Super Seeds are fortified with Mycorrhizae, Beneficial Bacteria & Trichoderma for Superior Growth & Vigor. Organically!

Mycorrhizae forms a symbiotic relationship with the roots of 95% of the worlds plants and it's believed that plants were able to evolve onto land due to this symbiosis.

Colonization by mycorrhizae can provide multiple functions: increased nutrient uptake, drought tolerance, resistance to pathogens, increased vigor and yield.

It has been shown that the presence of Mycorrhizae can increase a plant's absorption of certain nutrients which it cannot uptake on its own.

In most gardens and agricultural settings, the mycorrhizae is destroyed by tilling, the overuse of chemical fertilizers, and fungicides. The mycorrhizae must be re-added to the soil in order to benefit the plant.

Mycorrhizae is naturally 100% organic.

Take a look at www.DirtGoddessSeeds for videos and lots more info on this amazing fungus!
~~~~~~~~~~~~~~~~~~~~~~~~~~~~~~~~~~~~~~~~~~~~~~~~~~~~~~~
FREE SHIPPING with purchase of $49 or more!

*Please take note about bulk seed orders: Seed availability can be very volatile due to crop failures, weather conditions and other factors. Therefore, not every seed is constantly available in bulk sizes. Most bulk orders are shipped within 3-7 business days while some seeds can take up to 14 days to ship. If you are in a rush to get your bulk seeds you may want to contact us to verify availability. Individual seed packets are always available.



Story of this Seed:
Thanks and Happy Growing!
Growing Tips:
CULTURE: Soil pH should be over 6.0. Cool and mild weather is preferred, though chard has some heat tolerance. Seeds germinate in soil temperatures from 40-100°F (5-38°C) with an optimum of 86°F (30°C). Seedlings will tolerate light frosts, and mature plants are hardy to moderate frosts. It may overwinter in mild areas.

TRANSPLANTING: Sow seed in a cold frame or indoors in early spring, about 5–6 weeks before transplanting out after heavy frosts become infrequent. Sow seeds ½" deep, 2 seeds every 2", thin to 4" apart. Transplant out 4" apart in rows 12–18" apart.

DIRECT SEEDING: Sow beginning midspring and on into midsummer (fall where winter is mild).

BUNCHING: Sow about 6 seeds/ft., ½" deep, rows 18–24" apart. Thin to 4–6" apart for larger leaves. Cut for bunching at any stage; new leaves will grow.

SALAD MIX: Sow in a 2–4" wide band, 1" apart, 40 seeds/ft. Clip in about 5 weeks.

HARVEST: Clip mature leaves individually for home garden or for bunching for market. New leaves will grow multiple harvests. For baby leaf, clip young plants just above the soil. Multiple harvests are possible because the plants will grow new stems and leaves. Commercial growers may want to limit to one harvest to avoid half leaves.

AVG. DIRECT SEEDING RATE: BUNCHING: For bunching: 1 oz./300', 3¼ oz./1,000', 4½ lb./acre at 6 seeds/ft. in rows 24" apart. For baby leaf: 1 oz/45', 1? lb./1,000', 39 lb./acre at 40 seeds/ft. in rows 18" apart.
Questions 0 Total
Ask a Question About Organic Ruby Red Chard Seeds **Mycorrhizae Fortified/Bulk Available**
Policies
Shipping Policies
US Seed orders over $49 ship for free! Under $49 is a flat rate of $4. Garlic orders of 1 lb are a flat rate of $6. Over 1 lb is determined by weight and distance.
Return & Refund Policy
Our seeds have an average 90-95% germination rate within the first 2 years, with a 10% chance of success in year 3. If you find that your seeds don't live up to this, please let me know and I will send you a fresh packet. **Please note that bulk seed orders cannot be cancelled or returned unless the seeds are defective** Thank you.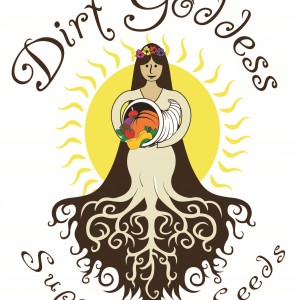 Kristen Brown
Oak Ridge, NJ, United States (Zone 6)
Established in 2012
1.00 acres in production
Other Listings from Dirt Goddess Super Seeds & Garlic Farm: